Saturday, 28 February 2015
Hazards issue 117 January-March 2012
Spate of dock work deaths exposes official 'low risk' folly
Dock work has been declared low risk. Preventive Health and Safety Executive inspections have been stopped. The docks regulations are up for the chop. Hazards editor Rory O'Neill asks if the docks are so safe, how come the death rate last year was several times the national average?
Safety in the dock
Hazards issue 117 January-March 2012
On 31 January 2012, Health and Safety Executive (HSE) inspectors issued an immediate stop work notice at Berth 2 of the Humber International Terminal, effectively bringing all activity at the dock to a halt. According to HSE, this type of prohibition notice is a big deal, and can only be issued where there is "risk of serious personal injury."
But it was just a matter of chance HSE inspectors saw this imminent and serious risk. As a
designated 'low risk' workplace
, HSE inspectors shouldn't have been anywhere near the dock. They caught a glimpse of the potentially deadly practices as they made their way to investigate a dock worker fatality that had occurred at the terminal the Friday before.
Death on the docks
If the 'low risk' dock industry was an average UK workplace, you'd expect no more than one death every year or two. It's currently killing at a rate closer to one a month. Here's just some of the recent fatalities.
23 October 2011
Dock worker
Ian Campbell
, 45, was killed when the straddler crane he was driving toppled at Tilbury Docks.
26 October 2011
Peter Hunt
, 68, an agency lorry driver working for Meachers Global Logistics, was killed at a distribution centre at Tilbury Docks when a trailer fell on him.
8 December 2011
Marine engineer
Jason Burden
, 19, suffered fatal chest injuries when a piece of machinery fell on him as he worked for Wear Dock and Engineering Company at South Docks in Sunderland.
16 December 2011
Dock worker
Neville Wightman
, 52, died of injuries sustained at Ipswich Dock when he was crushed by part of a pontoon during an unloading operation.
27 January 2012
Tim Elton
, 28, an agency worker working for Grimsby and Immingham Stevedores, was killed when he was buried under shifting coal in the hold of a ship at Immingham Dock.
"It was a defect that was identified while the inspectors were on their way to the incident scene that warranted immediate action," an HSE spokesperson confirmed.
Agency worker Tim Elton, 28, was working in the hull of the MV Excalibur "trimming coal" – manually pulling it down at the edge of the hold – when the coal moved, burying him.
One workmate told a local newspaper: "It came over the radio that there had been a fatality and everyone stopped working. Workers were trying to dig him out with their hands and then they tried using an excavator as well. The atmosphere down there was just horrible."
Unite, the union covering dock workers, had raised concerns about excessive agency worker hours at the dock. It is understood the dead man had recently worked 26 straight night shifts without a break.
The dock industry is small but economically important. Several million vehicles and trailers shift over 500 million tonnes of freight every year through UK ports. Government figures suggest over 58,000 people are directly employed in the industry. Add in port-related jobs, seasonal employment and part-time work, and you get a total of about 200,000 port cargo and passenger operations related UK jobs.
Disappearing bodies
HSE says obtaining statistics on injury rates in ports is problematic because of difficulties "coding" jobs, but believes the rate is "above the national all-industry average."
And how. To be in line with the
2010/11 national fatality rate of 0.6 deaths per 100,000 workers
, docks should experience no more than one death a year. In recent months, the industry has had a fatality rate of around one a month. Depending on which employment figure you use, the last year's death total means docks are running at a fatality rate of at least five times and possibly over 20 times the UK average.
HSE's difficulties with its figures, though, mean it is statistically oblivious to the carnage. The deaths are there – it's just HSE doesn't know they are there.
How low can you get?
Dock work can kill you, but that doesn't mean the government thinks it is worth policing by the Health and Safety Executive (HSE). The Department of Work and Pensions' (DWP) March 2011 strategy document,
Good health and safety, good for everyone
, classifies docks as one of the "lower risk areas where proactive inspection will no longer take place."
The government workplace safety blueprint, which provides the framework for HSE's enforcement policy, notes: "These areas include low risk manufacturing (eg. textiles, clothing, footwear, light engineering, electrical engineering), the transport sector (eg. air, road haulage and docks), local authority administered education provision, electricity generation and the postal and courier services."
Tilbury Docks killed two workers in three days in October 2011. Deaths nationwide in the industry are running at several times the all-industry average.
In a 22 February 2012 response to questions from
Hazards
, an HSE spokesperson said: "There have been two fatalities in water transport (based on SIC) since 1/4/2011,
details of both appear on the HSE website
." The word "dock" appears nowhere at all in the listing. And the only worker death identifiable as dock-related is that of Ian Campbell at Tilbury Docks, listed as a "service" sector death occurring in "other supporting water transport activities".
The death of Robert Fidoe, aged 12, is the other dock-related death visible to HSE. Robert's death, after he fell from his bike into a British Waterways canal lock in Stourport, is classified as a service sector death concerning a member of the public in "service activities incidental to water transportation."
The watchdog subsequently admitted its figures exclude deaths in cargo handling, one of the most deadly jobs in the ports, because the coding problems mean it can't separate out the dock-related cargo handling fatalities from those in air and road transport. Still,
Hazards
had little difficulty identifying five dock work deaths, all in jobs enforced by HSE, in the 13 weeks from 23 October 2011 alone.
Unbeknown to HSE, at least three other deaths on the docks do appear in its 2011/2012 fatalities list, which as of 27 February 2012 only included deaths up to the end of 2011. But one is classified as a "service" sector death and the other two are classified as deaths in "manufacturing".
Peter Hunt's death at Tilbury Docks is listed as a service sector death while undertaking "temporary employment agency activities". Jason Burden's death, while working for Wear Dock and Engineering Company at South Docks in Sunderland, is classified as "manufacture of other fabricated metal products n.e.c." Neville Wightman's death during unloading operations at Ipswich Docks is classified as "bldg ships/floating structure".
Unite believes it can identify at least eight deaths in the last year. And there are others, but they don't appear in HSE's statistics because some fall under the remit of the Maritime and Coastguard Agency.
Shuffling the deaths into a series of different industry columns – water transport, cargo handling, service sector, manufacturing – and then amplifying the effect by splitting the casualties across different enforcing agencies so they don't all appear in a single annual body count, means a shockingly deadly industry can appear relatively benign.
HSE's inability to recognise deaths on the docks is not just a statistical oddity. If HSE cannot even identify dock-related fatalities in its own published figures, this casts serious doubt on the rationale underpinning its current hands-off approach to dock safety.
Risky policy
Unions believe moves are afoot to make a bad situation worse. A draft HSE strategy document for the ports and logistics sector, circulated in February 2012, was described as "poor" by one union source. But it comes as the dock industry, designated 'low risk' by HSE, is already at the neglected fringes of HSE's oversight.
BIG BUSINESS
Over 6 million goods vehicles and trailers, transporting over 500 million tonnes of freight, pass through UK ports each year. But an HSE inspector will only pass through if something goes very badly wrong – just one in 10 major injuries on the docks in 2010/11 was investigated.
And HSE sources have indicated unofficially to
Hazards
that the Dock Regulations 1988, which unions believe place essential, thorough and specific requirements on a very different type of industry, are to be included in the next tranche of laws to be scrapped under the government's plan to halve the number of health and safety regulations [see:
Mad Men
].
In an official response, an HSE spokesperson confirmed to
Hazards
that HSE has "been considering its legislation (including the Docks Regulations) in the context of government initiatives such as the
Red Tape Challenge
." He added there have been "preliminary informal discussions… about possible revocation."
The law becomes irrelevant if there is no-one to police it. Provisional HSE statistics for 2010/11 record 69 major injuries to employees in "water transport," excluding cargo handling. But figures obtained by
Hazards
reveal only 7 – just one in 10 – were investigated by HSE. Five years ago, in 2006/07, HSE investigated 18 per cent of fatal and major injuries in the sector. By 2010/11, the official figures obtained by
Hazards
reveal, this had fallen to just 9 per cent.
Water transport fatal and major injuries investigated by HSE

2006/07

2007/08

2007/08

2009/09

2010/11*

18%

13%

9%

7%

9%

Notes: The figures are for HSE investigations of fatal and major injuries to employees, the self-employed and members of the public in the water transport industry.
* provisional.
Criminal neglect
The safety watchdog only took docks-related enforcement action on a handful of occasions last year. An HSE document,
Statistics report for the Ports Industry 2010/11p (provisional),
reveals HSE issued 20 enforcement notices in 2009/10, but this fell to just 7 enforcement notices in 2010/11. In recent years, the number of dock-related prosecutions taken each year by HSE can be counted on one hand. But then, if under its new 'low risk' strategy HSE is not to go looking for problems, it's not going to find the evidence of criminal activity.
According to Andy Green, the Unite convenor at Tilbury Docks and a member of the union's national executive, the consequence of the government's decision in 2011 to reclassify docks as low risk "was fewer inspections and less enforcement action, and predictably the downward spiral of poor health and safety began. Except bad health and safety didn't so much begin to fall in the industry, it's plummeted."
Among the casualties was Unite rep Ian Campbell, one of two fatalities at Tilbury Docks in October 2011. HSE initially rebuffed a Unite call to be involved in the investigation, commenting: "As this is a criminal investigation, trade union safety representatives have no statutory role, but they will be interviewed by HSE's inspectors in the course of their enquiries." The company too tried to freeze out the union, claiming "legal privilege due to the possibility of corporate manslaughter." All workplace injuries are potential crimes, but injury investigation is also a core trade union and an explicit, legal, trade union safety rep function.
DEADLY NEGLECT
Andy Green (right) says safety standards on the docks have "plummeted" since HSE designated the industry 'low risk'. The Unite convenor at Tilbury Docks, pictured with Unite safety rep Martyn Allen and Ian Campbell's widow, Caroline, says the move is "bordering on criminal negligence."
Commenting after Ian Campbell's death, Unite national officer for docks, Julia Long, called for health and safety action across all ports to reflect the dangers in the industry. She said: "The government has set the ports as a 'low risk' industry. This tragic incident shows that the government needs to have a rethink on its position."
Unite's Andy Green believes the decision to sideline docks safety came in response to industry whispers in the government's ear. "Our view is that the industry has been lobbying hard behind the scenes. These tragic losses of life will be swept under the carpet if we let them, and the industry will attempt to continue with its deregulatory strategy.
"We intend to expose the dock industry as a lethal environment which requires strict regulation and an HSE inspection and enforcement regime if we are to stem the loss of life in our docks and waterways." He added: "Docks are a high risk industry, that's not a slanderous remark or a criticism, it's a fact. The workers within the industry need high health and safety standards, standards with teeth. The industry needs the HSE to undertake a high level of inspection and when needed enforcement.
"Categorising the dock industry as low risk is bordering on criminal negligence; docks are death traps and should be treated with the respect they deserve. It's time the industry and the government faced the facts."


The high price of HSE's low risk strategy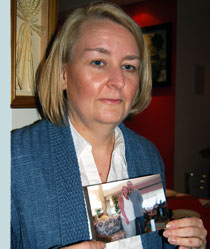 Caroline Campbell lost her "rock" and the father of her twin daughters when Ian Campbell was killed at Tilbury Docks in October 2011. The 45-year-old was driving a straddle carrier, a type of crane, when it overturned. "Ian and I had been together for 20 years and married for 17-and-a-half years," she told her local paper. "Even though I was only 19 when we met I knew within the first month together that I wanted to be his wife and I would love him for ever. He wasn't only my husband, he was my best friend, my rock."
Caroline said Ian, who was a well-liked Unite union representative at the docks, "had a way of making people feel at ease and he would bring out the best in people. Our children, our nieces and nephews and our friends' children adored him." She added: "Ian was one of life's great helpers. If you needed anything Ian was there to help even if it was just a chat on the phone for some advice and support. The loss of Ian has left a gap in so many lives and a huge gap in our family. He will be greatly missed by everyone who knew him."
Unite's national officer for docks, Julia Long, said: "Unite will leave no stone unturned in its efforts to understand how this terrible accident was able to happen." The union, which has linked up with Families Against Corporate Killers (FACK), is working with Caroline on a 'Justice for Ian Campbell' campaign.


Back to main story

Safety in the dock
Dock work has been declared low risk. Preventive Health and Safety Executive inspections have been stopped. The docks regulations are up for the chop. Hazards asks if the docks are so safe, how come the death rate last year was several times the national average?
Contents
LOW BLOW
How could ports, which HSE concedes have an above average injury rate and hazards from massive loads, giant machines, confined spaces and work at the water's edge, be low risk? Deaths in 2011/2012 are running at several times the all-industry rate.
HIGH PRICE
Caroline Campbell lost her "rock" and the father of her twin daughters when Ian Campbell was killed at Tilbury Docks in October 2011. See:
The high price of HSE's low risk strategy
DISAPPEARING BODIES
HSE told
Hazards
it knows of only one dock worker killed at work in 2011/12.
Hazards
identified five docks deaths between 23 October 2011 and 27 January 2012 alone. See:
Death on the docks
UNION WARNING
Unite convenor Andy Green gives a stark warning about the dangers of deregulation on the docks. See:
Dock deaths
Hazards webpages
Vote to die • Deadly business
Friday, 27 February 2015
2 captains, 7 senior officers, 2 counters, 8 junior officers (including a pilot, 4 foremen and 12 sailors
Hours worked during construcciónBotadura140 mill. $ Opko (South Korea) 18 January meses45.0008 2015La his first trip route
MSC BARCO OSCAR
Here's the colossus that has come to Algeciras
Last report:
Ship type:Container Ship
Flag:
Panama
Destination:ALGECIRAS
ETA:Feb 27, 13:00
Course/Speed:193 ° / 0 kn.
Current draught:16 m
Callsign3FBT7
IMO / MMSI:
| | | | | |
| --- | --- | --- | --- | --- |
| | Felixstowe Trinity Terminal | 09 Mar 2015, 11:00 | 504W | 510E | 10 Mar 2015, 19:00 |
DNV GL welcomes MSC Oscar, world's largest boxship, to fleet
The world's leading ship and offshore classification society DNV GL welcomes the world's largest containership into class – the MSC Oscar. Delivered by Daewoo Shipbuilding & Marine Engineering (DSME) in Geoje, South Korea, in January the 19,224TEU vessel is already plying its trade on the new East-West service.
Not only does MSC Mediterranean Shipping Company's newest vessel set a size benchmark for containerships in terms of capacity, but it has also been designed with a number of efficiency enhancing features. For example, the engine has been optimized so that fuel consumption can be automatically controlled to take into account both speed and weather conditions and she has a broad optimal speed range for enhanced operational flexibility.
"For over forty years the MSC family has been growing – and so too has our fleet," Diego Aponte, MSC President and CEO, shares with us. "Our partnership with DNV GL continues to be an important part of our journey. Today we are proud to own the largest container vessel on the seas, the MSC Oscar, which adds to our solid reputation as a leading ocean carrier. She will soon be joined by sister ship MSC Oliver, built to the same demanding class regulations, which marks yet another milestone in our ongoing relationship with DNV GL."
In less than twenty years the loading capacity of container vessels has more than tripled – with the length of the biggest vessels jumping from just over 300 to 400m during that time. MSC Oscar measures in at 395.4m long and 59m wide with a draft of 16m. Initially specified at 18,000TEU MSC Oscar was expanded during the building phase to add an extra tier above decks. The state of the art containership is unique in its wide beam design and use of torsion box and hatch coaming plates with steel plate thickness up to 100mm. The vessel is able to carry dangerous goods in holds, and approximately 1,800 reefer containers.
The vessel's cargo capacity has also been enhanced by implementing the RSCS class notation (Route Specific Container Stowage). The RSCS notation was developed by DNV GL to provide an even more efficient usage of cargo capacity with more flexibility for laden containers on board for specific routes while not compromising on safety.
"We are very pleased to mark this historic event with MSC, given our longstanding business relationship," said Jan-Olaf Probst, Global Ship Type Director at DNV GL – Maritime. "DNV GL is proud to have been a part of MSC's growth into a world leader in container shipping and we hope to be able to continue our successful cooperation for many years to come. MSC's decision to construct MSC Oscar and its upcoming newbuildings according to the DNV GL regulations reflects a clear focus for quality, maximum efficiency and an awareness of the need for a more sustainable industry."
The vessel's construction took only eleven months to be completed from steel cutting to delivery, which included extensive commissioning and sea trials. MSC Oscar is the first of the series of six ultra large containerships (ULCS) of Olympic Series. The remaining sister vessels of the series are expected to be completed by November 2015.
The cooperation between MSC and DNV GL stretches back to some of MSC's first vessels. And in 2005 the company's first entry into the large boxship market, the 9,000TEU MSC Pamela, was built to DNV GL class rules.
Today, MSC has 18 more vessels of over 19,000TEU on order. These deliveries could move MSC into the position of being the largest container shipping line in the world. The next of these vessels, MSC Oliver, also with DNV GL class, is expected for delivery in April.
DNV GL has been the class of choice for shipowners moving into the ULCS segment, with virtually all of the largest vessels being constructed according to DNV GL rules.
About MSC
MSC Mediterranean Shipping Company S.A. is a privately owned global shipping company founded in 1970 by Gianluigi Aponte. As one of the world's leading container shipping lines with headquarters in Geneva, Switzerland, MSC operates in over 450 offices across more than 150 countries worldwide with over 24,000 employees. With access to an integrated network of road, rail and sea transport resources which stretches across the globe, the company prides itself on delivering global service with local knowledge. MSC's shipping line sails on more than 200 trade routes, calling at over 315 ports.
About DNV GL
Driven by our purpose of safeguarding life, property and the environment, DNV GL enables organizations to advance the safety and sustainability of their business. Operating in more than 100 countries, our 16,000 professionals are dedicated to helping our customers in the maritime, oil & gas, energy and other industries to make the world safer, smarter and greener.
Bernie Ingram
Thursday, February 26, 2015
2:19 PM
A seaman has received a suspended jail sentence after he admitted being responsible for a collision which led to the death of a Suffolk woman six miles off the Felixstowe coast.
Gerardus Chapel at Ipswich magistrate court
Gerardus Chapel, of Papendrecht, The Netherlands, was on the bridge of the dredger Shoreway when it collided with a yacht, causing the death of Bernie Ingram, of Butley, near Woodbridge.
At Ipswich Crown Court this afternoon, he was given a six month jail term, suspended for 18 months.
Previously, Ipswich magistrates heard the 57-year-old drowned as a result of the impact between the 98-metre long dredger and the nine-metre yacht belonging to her and her husband Peter.
Mrs Ingram was in an inflatable life jacket sunbathing on deck when a wave caused by the crash swept her into the galley, trapping her as the sailing boat sank.
Chapel pleaded guilty to failing to discharge his duties properly as the officer of the watch on the dredger.
Mark Watson, prosecuting, said the tragedy occurred on Sunday, June 8, at around 1.30pm.
Chapel was in charge of the Shoreway's course when it collided with the Ingrams' yacht Orca, with the couple and their two dogs aboard.
As a result of the crash the Orca was hulled and sank immediately.
The dredger had been on its way out to sea at the time.
Mr Watson said: "There came a stage where it changed course slightly from the deep water channel and proceeded south into an area which is known to be frequented by sailing yachts, especially at the weekend."
The Orca, which had set sail from Levington, was returning after going out to sea.
Mr Ingram was at the helm and saw the Shoreway in the distance, the court heard.
It appeared to be in the deep water channel. Mr Ingram's yacht was not bearing a course towards the deep water channel, but was parallel to it.
Magistrates were told he went below deck to go the toilet for no longer than a couple of minutes leaving his wife on deck at the rear of the yacht.
When Mr Ingram returned he saw the dredger alongside his yacht. There was a collision with Orca striking the starboard anchor of the Shoreway.
Mr Watson said: "The Orca was hulled pretty much amidships and began to take on water."
Mr Ingram was trapped in the cabin which filled with water. He was able to escape after a desperate struggle, the court heard.
He assumed his wife had been swept into the sea as she was on deck.
However, there was a surge of water which dragged the doctor's receptionist into the galley.
Her body was recovered from the wreck the following day.
Ian Lawrie QC, representing Chapel, said the case centred on an omission to do something and came down to human frailty.
Thursday, 26 February 2015
100-tonne crane worth $3 million dropped at Fremantle Port
http://www.watoday.com.au/wa-news/fremantle-wharfies-dodge-massive-falling-crane-20150211-13c7bo.html
Dozens of workers at Fremantle Ports were almost flattened by a massive mobile crane dropped by unqualified workers in a loading accident on Tuesday.
International Transport Workers' Federation inspector Keith McCorriston said seafarers aboard the cargo ship, Stevns Trader, were loading on to the boat despite not having the requisite tickets to do the work.
The load, a short base mobile crane, weighing more than 100 tonnes came crashing down, injuring one worker and narrowly avoiding other workers around the site.
"The workers were lucky because if they had come down nearer the wharf there would have been a number of fatalities," he told Fairfax Media.
"Only one worker got minor injuries."
Mr McCorriston said the ships crew were not qualified to operate the lift and crane and that the work should have been left to the wharfies to do.
Mr McCorriston said the Maritime Union of Australia was angry its members' lives were put at risk by the falling crane.
"They are alarmed and are investigating the incident," he said.
The crane, commonly used at sites around the metro area, should not have been under the supervision of seafarers and MUA branch secretary, Mr Chris Cain, said the loading or unloading of any vessel at the wharf should only be handled by maritime workers with the appropriate skills and tickets.
"Worksafe and the Australian Maritime Safety Authority should be putting these (vessel) operators on notice after an incident like this," he said.
The video footage is courtesy of ITWF.
J
John Cresswell.
Leader of a volunteer rescue service says its future is "up in the air" today with just days left to find a new base or face possible closure.
The Felixstowe Volunteer Coast Patrol Rescue Service (FVCPRS) has to move its equipment out of its current storage site by the weekend – and has no idea where it is going to keep everything.
Chairman John Cresswell said: "We have checked out five or six leads but sadly they have been absolutely no good to us at all.
"Everything is up in the air and it is causing us so much grief – we are off-service at the moment, cannot operate and don't know what is going to happen. It's a desperate situation.
"You would think someone in a town the size of Felixstowe would have somewhere we could store our equipment."
The FVCPRS has been storing its specialist equipment at a former bomb shelter in Adastral Close, but the owners say the roof of the building is in imminent danger of collapse.The service has already missed the date for moving out and now has to remove its kit by this weekend.
Mr Cresswell said the service was looking for a large, dry and secure storage area for its two boats, four trailers. two liferafts, and a 40ft shipping container to house its most vulnerable equipment.
One possibility explored was the little-used boat storage area at The Dip but Suffolk Coastal said there was only room for a 20ft container.
Mr Cresswell said the team had been looking forward to the new season, praising the hard work and commitment of its volunteers to get the service back on its feet after a devastating road crash while en route to help with the tidal surge in December, 2013.
He said: "Our service is needed more than ever. The last three years have been the busiest in history for sea rescue and we have seen a steady increase in our workload in the past four years."
Anyone who can offer assistance shouldcontact the charity at fvcprs@gmail.com
Plea to find Felixstowe Volunteer Coast Patrol Rescue Service a new home
A volunteer rescue service operating in Felixstowe has been hit by the news it will have to move out of its base.
The Felixstowe Volunteer Coast Patrol Rescue Service (FVCPRS) has been told it needs to clear all its specialist equipment out of the former bomb shelter in Adastral Close.
The organisation has been told the roof of the building is in imminent danger of collapse and therefore needs to find a new home.
Now FVCPRS's chairman John Cresswell has put out an appeal for help from the public to secure the groups future.
Mr Cresswell said: "We have been instructed to remove our vast array of valuable and specialised equipment as soon as possible from the site.
"The main problem is that we have no available funding to rent an alternative storage facility and unless a solution can be found we will be out on the streets.
"We know this is a very big ask but ideally we are looking for a large, dry and secure storage area for our two boats, four trailers and a 40ft shipping container to house our most vulnerable equipment.
"Ideally it must be as near to Felixstowe as possible as it will house the resort's flood emergency rescue equipment and be available 24/7 for emergencies."
Mr Cresswell said the organisation has never had a "core sponsor" in its 19 years of existence and has therefore led a nomadic existence.
He added FVCPRS had relied heavily on the generosity of other organisations to give it a home in that time.
The registered charity previously shared a building with the Port of Felixstowe's fire and rescue department, occupied the old coastguard garages at Martello Tower and been given a home with the greenkeeper for Felixstowe Tennis Club.
Mr Cresswell said: "Not being in the financial position to rent suitable accommodation it is unlikely that we will find another site.
"This may lead to this award-winning charitable organisation being disbanded unless help can be found.
"We will have no alternative than to deposit all our hard-won equipment on the nearest public car park to then be exposed to weather damage and who knows what else."
Anyone who can offer assistance shouldcontact the charity at fvcprs@gmail.com