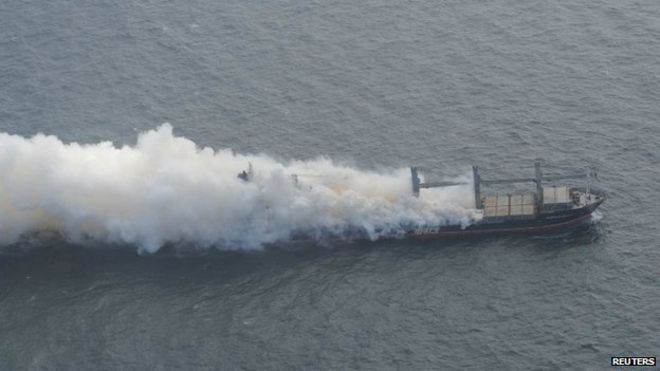 A crew have abandoned a container ship a few miles off the German coast amid fears that its cargo of fertiliser could explode.
Fire broke out on Monday night in the hold of the Purple Beach, as it headed for the German port of Brake.
Residents near Bremerhaven were told to keep windows and doors shut as a strong smell was reported in the area.
Although the fire was initially put out, it started again on Tuesday prompting the crew to leave the ship.
Toxic gas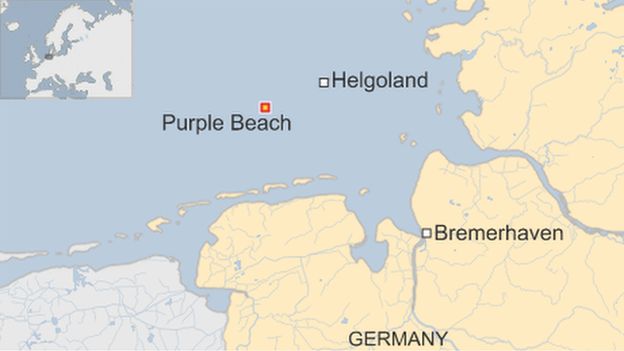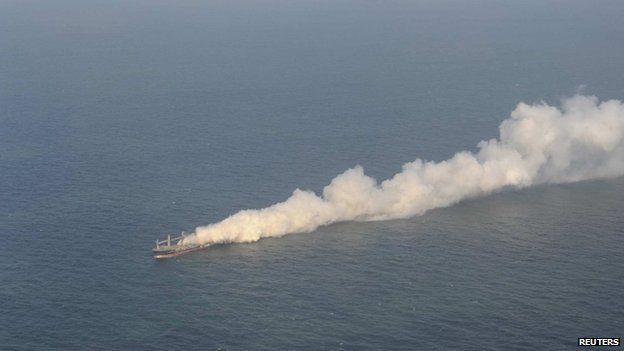 The 192m-long (630ft) ship had been heading from Immingham on the north-east coast of England to Brake, south of Bremerhaven, when it caught fire.
It was still well alight on Wednesday and authorities said there was a danger it might explode.
Footage from the scene showed smoke rising from the Marshall Islands-registered ship on Wednesday.
The 22-strong crew and firefighters, who had tried to put out the blaze, arrived back on land overnight after three boats were sent to their aid some 20 nautical miles (40km) north of the German coast and 15 nautical miles west of the island of Helgoland.
A total of 36 people were taken to hospital for treatment for inhaling toxic gas, although no-one was said to be in a serious condition.
Maritime emergency officials issued an alert to nearby islands as well as mainland areas of northern Germany because of the cloud of malodorous gas.
"There's no danger to the environment yet," maritime official Michael Friedrich said, although there were fears that could change.
Photo: Markus Hibbeler / Bild
The fire aboard the vessel, which is laden with fertilizers, started in one of its cargo holds on Monday evening. Initially, the crew managed to contained and extinguish the fire, but on the following day it reignited while Purple Beach was about 15 nautical miles west of
Helgoland
.
Several boats were dispatched to the scene as the crew requested assistance. A team of firefighters was brought on Purple Beach to help contain the fire. A crew member reportedly has been airlifted after suffering injuries from the toxic gas.
Currently the crew and the firefighters have all been evacuated, most of them have also been taken to hospital for gas-poisoning treatment. The fire is still on and there is a possibility that the vessel might explode. Salvage boats are drifting in the site keeping a distance of some 3 nm due to danger of gas poisoning.
0300 UTC May 27: Fire in cargo hold or holds of general cargo vessel Purple Beach is still on, explosion feared, crew and firefighters evacuated, vessel in the same position anchored 17 nm southwest of Helgoland, North sea. Three salvage vessel, Mellum Nordic and Neuwerk, are drifting nearby. Some 36 people, among them 22 crew and a number of firefighters, were taken to hospital for gas-poisoning treatment, but luckily, no one seriously injured. There's a danger of gas poisoning, salvage vessel keep a distance of 3 miles, even coastal population was warned about possible air pollution. It's still unknown, what happened in cargo hold and what's going on, vessel is too dangerous for boarding.
First news:
Fire on board of freighter Purple Beach, North sea
Fire erupted on board of general cargo vessel Purple Beach in the evening May 25 in one of the cargo holds, vessel loaded with fertilizers was en route from Immingham UK to Brake Germany. It was thought that crew extinguished fire by own means, but on May 26 fire broke out again, which most probably, is due to the character of fertilizer. Vessel at the time of restarted fire was some 15 nm west of Helgoland, North sea. Big-scale salvage under way, involving salvage vessel Neuwerk (IMO 9143984) rescue boats and helicopters. Firefighting team or teams were delivered on board. Some 25 people, reportedly crew and salvors, suffered slight gas poisoning, one crew was seriously injured and medevaced by helicopter. At 1400 UTC May 26 vessel was shown by AIS as anchored 17 nm southwest of Helgoland, surrounded by salvage vessels.
General cargo vessel Purple Beach, IMO 9138135, dwt 33720, built 1998, flag Marshall Islands, manager MACS MARITIME CARRIER SHIPPING, Germany.
Gallery: Firefighters to Flood Cargo Holds of Freighter Ablaze off Germany
CCME says that the smoke coming from the ship laden with fertilizers has noticeably reduced.
Around 500 m3 of water has been pumped into the holds so far, and after Germanischer Lloyd gives an all-clear, the holds will be filled with water completely.
One multipurpose vessel and one tug are on scene, as well as two helicopters.
CCME Cuxhaven established a 5-mile security zone around the vessel as a precaution should the vessel explode. There is currently no reported damage to the surrounding areas.
As World Maritime News previously reported, the 1998-built freighter Purple Beach caught fire Monday evening while carrying a load of fertilizers from the UK to Germany.
The ship's crew immediately sealed off and activated the on board extinguishing system.
The crew reportedly initially managed to contain the fire, but not extinguish it completely, as the fire broke out again on Tuesday, emitting toxic smoke and gasses.
The crew of 22 and 14 firefighters sent to assist the vessel had been airlifted to local hospitals, with no reported injuries.
Purple Beach is currently anchored some 17 nautical miles southwest of Helgoland.
A cloud of smoke from the burning ship reached Cuxhaven and Bremerhaven, CCME reports.
The smoke is reportedly not toxic, although local residents were asked to keep their windows and doors closed. Aircraft are currently trying to push the clouds of smoke back to the sea with water sprays.