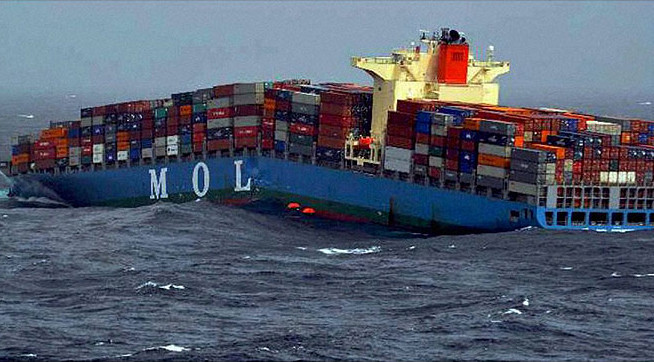 Two-and-a-half years after the
containership MOL Comfort
split in half, burst into flames and sank,
ClassNK
, a committee which is made up of representatives from the shipping and shipbuilding industries as well as scholars and experts to discuss matters relating to the establishment and revision of technical rules and guidance, has released its draft amendments to its containership structural requirements.
The new requirements are scheduled to apply to container ships contracted for construction on or after 1 April 2016.
The amendments are based on the
International Association of Classification Societies
(
IACS
) Unified Requirements S11A ('Longitudinal strength standard for container ships') and S34 ('Functional requirements on load cases for strength assessment of container ships by finite element analysis') as well as reports from Japan's
Ministry of Land, Infrastructure, Transport and Tourism
(
MLIT
), and ClassNK's own report released in September 2014.
The amendments were approved by the ClassNK Technical Committee in Tokyo on Nov 19, 2015.
In response to the ship loss, ClassNK established the "Investigative Panel on Large Container Ship Safety", which comprised of shipbuilders, shipping companies and people with relevant knowledge and experience, to investigate the possibility of casualty occurrence and the structural safety of large container carriers.
The results from the investigation and ClassNK's action plan were released in the Investigation Report on Structural Safety of Large Container Ships in September 2014.
The MOL Comfort is considering the biggest containership loss in history. The 8,000 TEU containership was sank after breaking in two in the Indian Ocean in June 2013.
The videos below are taped by crewmembers of vessels dispatched to the incident site, showing MOL Comfort' crack and taking on water:
T
he draft amendments were approved by the ClassNk Technical Committee in Tokyo on November 19th and will come into effect after approval from ClassNK's Board of Directors.
Source: seanews.com.tr