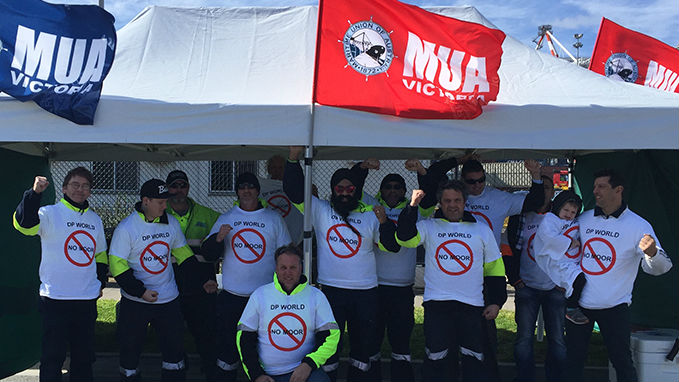 Australia's Fair Work Commission has issued a temporary order prohibiting global stevedoring giant - DP World - from forcing wharfies to do the work of linesmen in Melbourne.
The work of linesmen in Melbourne is currently performed by external mooring providers as the work is separate and dangerous from the work of wharfies, says Australia's maritime union, the MUA.
DP World wants to force wharfies to do the jobs of linesmen. The MUA argued that this would destroy scores of linesmen jobs and was outside the scope of the enterprise bargaining agreement.
MUA Assistant National Secretary Warren Smith said DP World's attempt was nothing more than a profit grab from a company that was far from struggling.
"Linesmen's lives will be destroyed as mooring work flows to the big stevedores and ultimately families will be destroyed by this greedy global terminal operator."
"Wharfies, seafarers and port workers are standing together and fighting DP World's greed. We are escalating our campaign and will not stop on this issue till mooring work is safe and is unequivocally performed by linesmen."
DP World has stopped its push for mooring in Sydney and Fremantle at this stage. "There have been big struggles with wharfies at DP World standing up and fighting back. Workers at DP World have made it clear in no uncertain terms they don't want this work and they don't want to put their mates out of a job. Workers have hit the streets in opposition to the company's attack and breaching of their agreement," says Smith.
Jodie Dale, a linesman at Ausport Marine, is appealing to fellow workers to stand with her to protect her job and the jobs of hundreds of her workmates.
"These jobs are the livelihoods of many, many people. Without it you have got a lot of men and women that are going to be out of work," Dale said.
The DP World enterprise bargaining agreement with the MUA was signed off five months ago, and the company is seeking to change work practices that were clearly part of the industrial negotiation, says the MUA.
Smith said it was disingenuous of DP World to try and force changes to the workplace on items that had been raised but not agreed upon during enterprise bargaining agreement discussions.
THE MUA has signalled that it will continue to fight for the rights of wharfies and the jobs of linesmen.