Wednesday, 30 November 2016
Dockworkers are planning a "noisy and active" protest outside the Aarhus headquarters of Europe's largest feeder operator Unifeeder on Friday, part of a continent-wide campaign to halt the practice of ships' crews lashing and unlashing containers in port.
The International Transport Workers' Federation (ITF), which is organising the protest by "hundreds of dockworkers", believes "cargo lashing is our work".
However, Unifeeder told The Loadstar today that the dockers would be "demonstrating in the wrong place", arguing that the carrier is not the employer but simply charters the vessels that include provision for ships' crews to perform lashing and securing services for the duration of the hire period.
Indeed, it is common practice for feeder vessel charter parties to include this clause – applicable within the constraints of the port. It is believed the practice assists the quick discharge and load of the ship, at whatever time of day or night the vessel arrives or the berth becomes available.
Unifeeder chief executive Jesper Kristensen explained: "We buy a service but it is obviously important to us that the work is performed in a safe and flexible way, and that we maintain our competitive power."
Mr Kristensen added that for the nigh-on 40 years of Unifeeder's existence as a feeder operator, seafarers had "secured the cargo, and done it skilfully".
"You pay extra attention to safety when you are on board yourself," he added.
However, the ITF said its inspectors had said: "Unifeeder-chartered vessels are regularly failing to hire lashing gangs in European ports".
ITF dockers' section vice-chair Torben Seebold said: "We have tried to have a constructive dialogue with Unifeeder about cargo lashing, but they have taken an entrenched position on this issue.
"We are sending out messages to all shipping lines and charterers who resist and abuse ITF agreements that they will find themselves under increasing pressure."
However, according to Mr Kristensen, when the ITF made contact in April, "we replied immediately, however, without receiving any reaction".
He added: "We are always open to dialogue"
Speaking to The Loadstar from Hamburg this morning, Unifeeder's chief operating officer, Annemette Jepsen, said she would return to Aarhus on Friday and was "looking forward to sharing tea and coffee" with the dockworkers and further explaining the company's position.
Danish Shipowners' Association director Anne Windfeldt Trolle said: "It seems strange that, among other parties, the ITF will demonstrate in front of Unifeeder, since they already have a collective agreement with the shipowners".
She added: "It is surprising that the unions have not protested against this through the regular labour courts."
In Finland, a court ruling was handed down in April this year against dock workers that attempted to blockade vessels and force operators to employ shore-based lashing gangs.
Unifeeder deploys a fleet of around 35 chartered container vessels on an extensive network of feeder services in Northern Europe.
Unifeeder seems confident that lashing is not Dockers jobs.
Well if only they would listen to the seafarers on their ships.. they have no time to rest on short sea trips..
And if they complain, they will loose their job.
So Unifeeder....
For once think about social responsibility and not just stupid profits!!!
Proud to be a docker
Tuesday, 29 November 2016
399m length triple-e vessel MORTEN MAERSK arriving at the port of felixstowe,swinging with 2 svitzer tugs and backing up for berth9.
Paul Hiett
The family behind the world's seventh-largest shipping line, Hamburg Süd, are to meet to decide on the future of the company, reported Lloyd's List.
With the carrier struggling amid the global slump in freight rates, members of the Oetker family, owners of Hamburg Süd, are reportedly in discussions over whether to sell to the shipping line, or retain their interest in the company.
With the industry currently going through a period of consolidation; mergers, acquisitions and alliance-building activity has spiked in 2016.
Maersk could be the frontrunner to buy Hamburg Süd, should it be put up for sale, having announced its growth strategy would no longer rely on ordering new ships, but instead
grow through acquisitions
.
With a meeting between family members reportedly taking place on Wednesday November 30, it is understood there is a split over whether or not to retain the carrier.
Danish line said to have reached an advanced stage of takeover negotiations
MAERSK Line is reported to be closing in on Hamburg Süd, the privately owned German shipping group.The Danish line, which has not concluded an acquisition since 2005, when it bought P&O Nedlloyd,...
The Wall Street Journal is reporting Maersk Line is lining up a bid for the world's seventh largest containerline, Hamburg Sud.
The owners of the German line are understood to be willing to sell the line amid massive consolidation seen this year in the container shipping sector. Hamburg Sud does not belong to any existing or future container alliance.
Hamburg Süd is part of the Oetker Group, a family-owned German conglomerate involved in shipping, banking, food and beverages.
Hamburg Süd has a fleet of around 130 boxships totaling some 600,000 teu in its fleet which VesselsValue estimates is worth $1.4bn.
Maersk has recently said it is after acquisitions rather than ordering new ships. Its last containerline acquisition was back in 2005 when it bought P&O Nedlloyd.
Both Hapag-Lloyd and Cosco have previously been linked with buying Hamburg Süd, a line with an especially strong presence in Latin America.
COCAINE with an estimated street value of approximately £50m has been seized by Border Force officers at DP World London Gateway.
The drugs, which had been shipped from Ecuador via Belgium, were concealed within a container carrying a legitimate cargo of tinned tuna.
The seizure of the Class A drug was made on Monday (21 November). The smugglers had stashed approximately 500kgs of cocaine inside eight holdalls within the load of tuna.
The shipment would have had a wholesale value to organised crime of around £16.5 million, but when adulterated and sold at street level could have been worth more than £50 million.
Mark Kennedy, Border Force Assistant Director at DP World London Gateway, said:
"Cocaine is a destructive drug which ruins the lives of users and damages the wider community. This was a substantial find, the biggest we have made here in the port's short history, and will have significantly disrupted the activity of the criminal parties involved.
"Seizures like this demonstrate how Border Force officers are at the forefront of the fight to keep illegal drugs and other banned substances out of circulation."
The case has been referred to the National Crime Agency (NCA) and Matthew Rivers, from the NCA's Border Policing Command, said:
"The intended destination for this consignment was mainland Europe but it's likely a proportion would still have ended up back in the UK. We are now working closely with our law enforcement colleagues overseas as part of the ongoing investigation.
"Cocaine is a commodity that has direct association to highly aggressive crime. A consignment of this size would undoubtedly have filtered through organised crime groups also associated with firearms, knife crime, exploitation of the young and vulnerable and gang culture. Seizing it has removed the opportunity to make profit from those groups."
Border Force officers use hi-tech search equipment to combat immigration crime and detect banned and restricted goods that smugglers attempt to bring into the country.
They use an array of search techniques including sniffer dogs, carbon dioxide detectors, heartbeat monitors and scanners – as well as visual searches – to find well-hidden stowaways, illegal drugs, firearms and cigarettes which would otherwise end up causing harm to local people, businesses and communities.
Anyone with information about suspected smuggling should contact the hotline on 0800 59 5000.
http://www.yourthurrock.com/2016/11/25/50-million-worth-cocaine-seized-london-gateway-port/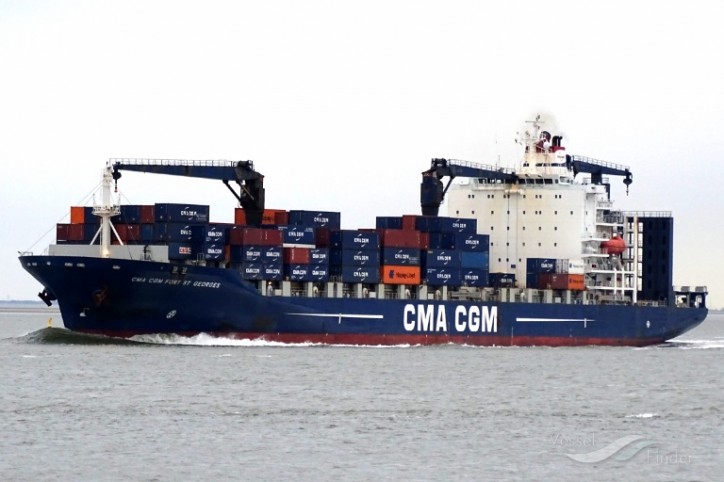 By
Milton Stuards
CMA CGM
announced earlier today an improved service offer directly connecting
North Europe
with
Central America
. The enhanced ECS service will provide one of the shortest transit times on the market, linking
Rotterdam
from Costa Rica in only 14 days and adding
London
as a port of call in 15 days.
Container ship CMA CGM Fort St. Georg - Image courtesy: Gyssels Gilbert
This offer is dedicated to reefer transport from Central America and the Caribbean to North Europe and allows to connect the United Kingdom with all of the Caribbean through CMA CGM's strategic hub in Kingston, Jamaica, one of the most modern ports in the area.
Offered in cooperation with Hapag–Lloyd, the service will be run by five state of the art CMA CGM vessels with 2300 TEUs and 550 reefer plugs and one Hapag–Lloyd vessel. The first vessel will enter the port of London Gateway on January 6, 2017.
The new rotation will be:
Puerto Limon
, Kingston, Rotterdam, London,
Hamburg
,
Antwerp
,
Le Havre
,
Caucedo
, Kingston, Santo Tomas de Castilla,
Puerto Cortes
and Puerto Limon.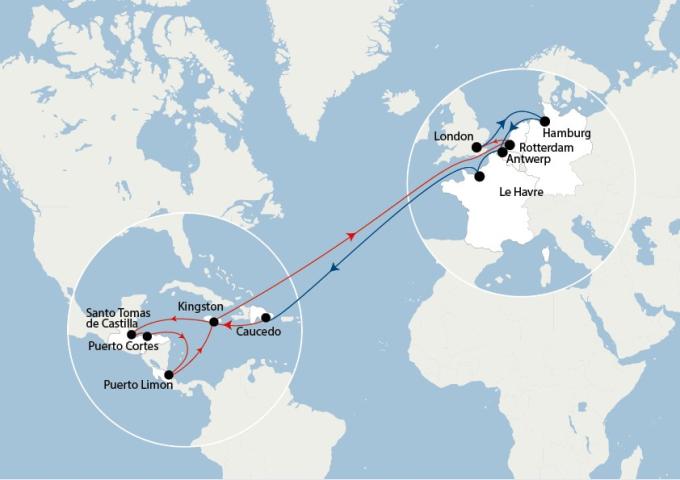 Source: CMA CGM