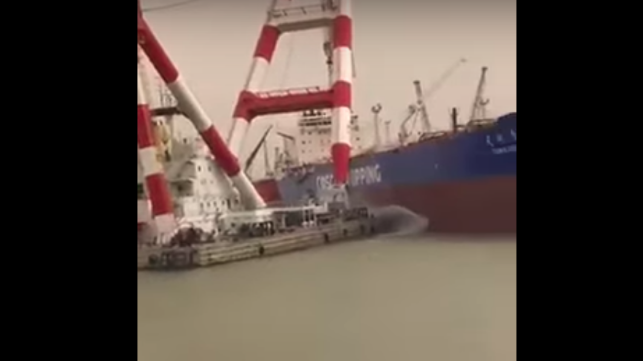 [Brief] A video published Friday on social media shows a floating shearlegs striking the product tanker Tian E Zuo, puncturing her hull above the waterline and releasing a stream of ballast water from a wing tank. The footage appears to show the Zuo moored to a pier at the time of the incident.
The accident occured Friday at Khor al-Zubair, a small inland port located near Um Qasr, Iraq. Khor al-Zubair is the future site of an oil products terminal serving the Iraqi market, and local media reported late last year that work on the long-planned waterfront facility is finally under way.
As of Monday the 43,000 dwt Zuo was anchored off Sharjah, UAE, where dockyards are available to conduct repairs.