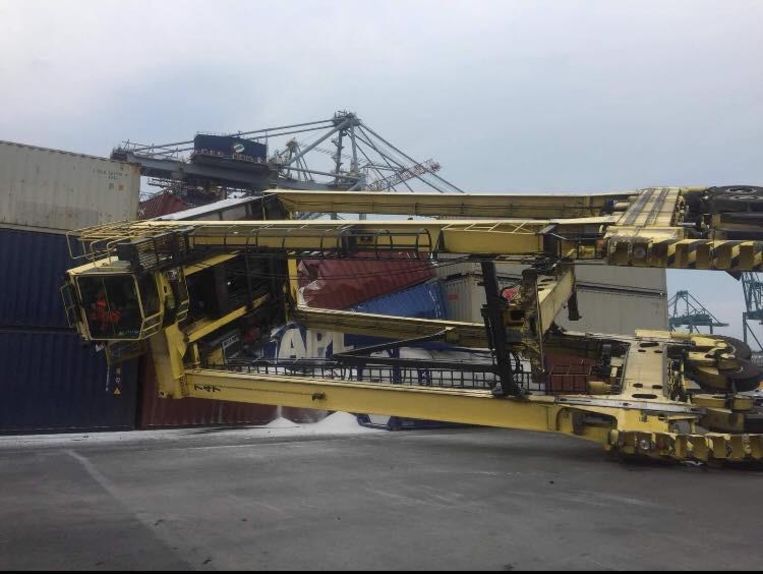 PLA The straddler carrier lies on its side at the Deurganckdok.
A 41-year-old dock worker was unhurt from a straddle carrier on Tuesday afternoon, after his machine had left the corner at quay 1700 at the Deurganckdok. The straddle carrier that is 13 to 14 meters high, tipped over. Fortunately for the driver, the fall of the crane was broken when the wheelhouse popped on top of some containers. At the DP World company, no one was available for comment yesterday.
Criticism of young people
This is already the second accident with a straddle carrier that overturns in a short time. Straddler carriers are used to transport containers to and from the ship. A month ago there was already a turn at the quay 913. Also there the driver was there with minor injuries because the straddler collided with a metal construction. The driver who was clamped at the top of his wheelhouse eventually hit the ground on his own.
After that accident, older drivers were criticized for their younger colleagues. They would be used too quickly for the real work on the busy container quays. Employer organization CEPA says the training for straddler drivers has improved thanks to the new simulators. The training lasts five weeks and is followed by an exam.
CEPA hopes to retrain at least 350 dockworkers to become a chauffeur on straddle carrier this year. The big companies DP World and PSA have been asking for extra drivers for a long time. (PLA)
https://www.hln.be/regio/antwerpen/dokwerker-ongedeerd-na-ongeval-met-straddler~a10f7ad9/