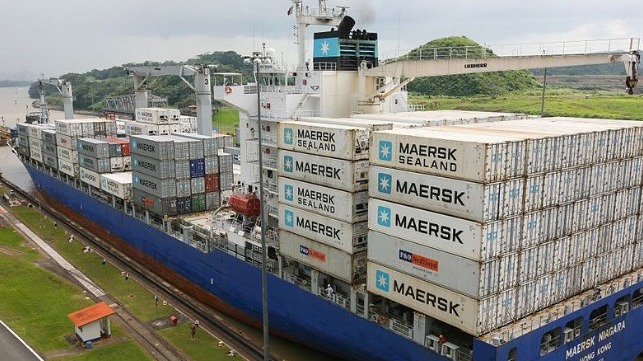 Earnings from Maersk Group's core "ocean" business lines (Maersk Line and Hamburg Süd ocean freight, plus APM Terminals' transshipment hubs) were about $500 million, dragged down by rising bunker prices and unfavorable exchange rates. Bunker price increases have raised the cost of shipping a single box on an Asia-EU route by $70, Skou said - yet freight rates on these core lanes remain below breakeven. "Overall, it has been difficult to pass on . . . all fuel cost increase to customers in contracts, especially also in a short-term market in some areas where we have faced strong capacity injection," said Maersk Line CCO Vincent Clerc in an investor call.
In response, Skou has launched a cost-cutting initiative to improve profitability. "In the short term we will be closing down some services," Skou told the Wall Street Journal. "Overcapacity is the biggest defect." To cut back, Maersk will be returning some of its chartered-in fleet to shipowners, reducing its feeder services and channeling volume to direct ports. The firm also confirmed that it has no plans to place new shipbuilding orders for at least the next year - unlike MSC, CMA CGM and HMM, which have all been purchasing 22,000-plus TEU mega-ships for their fleets.
Skou warned that emerging geopolitical factors - like the reimposition of sanctions on Iran, or the prospect of a trade war between the U.S. and China - could make the situation considerably worse. "We have to admit that the Americans have taken a number of initiatives recently that have caught us by surprise," Skou told Reuters. "With the sanctions the Americans are to impose, you can't do business in Iran if you also have business in the U.S., and we have that on a large scale."
Maersk is already pulling back from Iran, as is Maersk Tankers, which is no longer part of Maersk Group. The risk posed by new sanctions on Iran extends beyond its direct impact on trade: it is also pushing up oil futures, Skou said, driving the cost of bunkers higher.
Beginning this quarter, Maersk is subdividing its AMPT and Maersk Line earnings, then recombining them in three new segments: Ocean, Terminals & Towage and Logistics & Services. The conglomerate says that it has made this accounting change in order to "align the strategic focus on growing the non-ocean part of the business" and reduce dependence on freight rates. Skou has previously announced that he would like Maersk Group to become a fully-integrated, door-to-door logistics company, not an ocean carrier with logistics and seaport divisions.
In Terminals & Towage (APMT's gateway terminals and Svitzer), higher volumes led to a strong improvement in EBITDA from $140 million to $200 million. In Logistics & Services (Damco, Maersk Line, and APMT-branded logistics offerings), Maersk reported slightly lower EBITDA of $23 million, down from $32 million in the same period last year.
Maersk Group also booked a one-time accounting gain of $2.6 billion from the sale of Maersk Oil to Total, along with other gains from discontinued operations, leading to a net profit of $2.8 billion for the quarter.