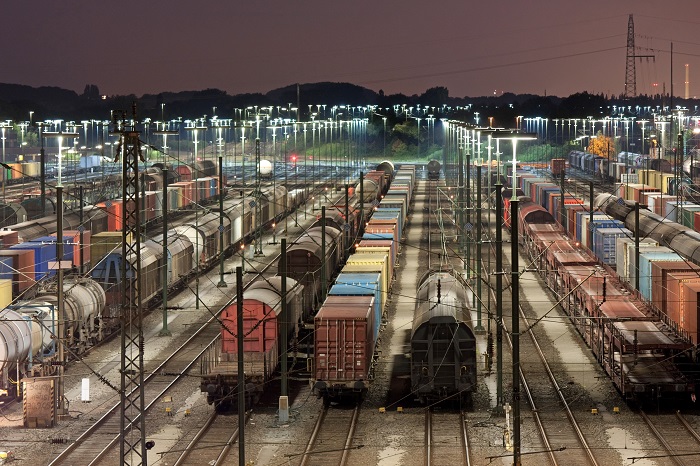 Amid rising container volumes propelled by Europe/global economic growth, intermodal/rail has an opportunity to win transport market share, due to the continent's barge congestion and truck driver shortage. (Above: A rail yard near Hamburg, Germany.) Photo credit: Shutterstock.com.
Bruce Barnard, Special Correspondent
LONDON — Europe's rail freight operators are pulling out all the stops to woo shippers with improved hinterland connectivity to container terminals in the dominant
Le Havre
-
Hamburg
port area.
In 2017, the rail sector, which has long been struggling to boost its reputation with shippers, suffered a severe setback — and a loss of more than €2 billion ($2.35 billion) — following the seven-week closure of the Rhine-Alpine rail corridor, Europe's key north-south route, due to the collapse of a tunnel under construction at Rastatt in southwest Germany.
What's more, the ongoing, three-month strike at France's state-owned rail company, SNCF, that will likely continue into June, has further tarnished its image.
Even so, the industry is cashing in on the problems facing its intermodal rivals, road transport, and inland waterways, and benefiting from strong support from leading ports; they view rail as a means of dealing with the growing congestion triggered by the flood of mega-ships onto key ocean carrier routes, particularly the Asia-North Europe trade.
Rotterdam, Antwerp congestion persists
Contargo, a leading intermodal operator with 2.3 million TEU a year in traffic, last week informed shippers to expect delays of 12 to 72 hours in Rotterdam and 24 to 36 hours in Antwerp, which was also hit by a 24-hour strike by lock workers.
The German company, which has applied a congestion surcharge of €19.50 per container at both ports since last July, has said it can no longer provide a reliable service and will restrict its calls to individual terminals from June 1.
"In this way we hope to speed up the circulation of our barges in the seaports, in order to have at least a reasonable possibility of adhering approximately to our sailing schedules again," the company said in a statement.
While Contargo struggles with its barge operations and issues constant apologies to its shippers, it is boosting its rail operations. Most recently, it launched a direct thrice-weekly, 88-TEU rail shuttle service between Rotterdam and the German border town of Weil-am-Rhein — creating the first direct link between the port and key industrial areas around the Swiss city of Basel. The company said it is "keeping a close eye" on capacity utilization on the Basel Westport Shuttle "with plans to boost service frequency."
The barge sector is a massive target for the rail sector, even if it only captures a limited amount of inland waterway traffic — barges handled about 3 million TEU of Rotterdam's 13.7 million TEU traffic last year.
The rail sector is also benefitting from the growing shortage of truck drivers across Europe and continued efforts by European governments to remove trucks off the road to decarbonize the continental supply chain.
Among the industry's most enthusiastic supporters are ports, particularly Rotterdam and Antwerp, which view rail as among the best ways to tackle container congestion and also lure shippers from rival hubs — not just in northern Europe, but the Mediterranean too.
Rotterdam could boost its market share in some regions of southwest Germany by as much as 23 percent with extra rail connections, a recent survey of 30 local shippers, freight forwarders, and hauliers suggested. There are still many hinterland markets to win, particularly within the European hinterland, according to Matthijs van Doorn, director of logistics at Rotterdam Port Authority.
Hamburg — setting the rail use standard
Rotterdam has some way to go to match rival
Hamburg
as a rail-centred port, with traffic slipping last year despite a market-beating 10.9 percent increase in container traffic. This is partly due to the fact that rail shippers, like their barge peers, are facing significant delays in transhipping their cargo in an increasingly congested port.
But Europe's top container hub is taking measures to ease rail movement as the port authority is spending €275 million to re-route 2.5 miles of rail freight track from an in-port bridge so that shipping and rail traffic "will cease to get in each other's way."
The new rail track will bypass the Caland Bridge, which is used by trains and trucks and will reach the end of its technical lifespan in 2020.
Antwerp is also on a rail roll as it seeks to cut the number of congestion-threatening truck trips by up to 250,000 a year.
The port authority wants to take over the management of 1,000 kilometres (621 miles) of rail track around its terminals from Infrabel, a state-owned company that manages the Belgium's national rail network, to boost rail's current seven percent share of traffic to and from Antwerp.
Several companies, including DP World, the global terminal operator, and Danser, one of Europe's largest intermodal companies, have joined a project to boost rail and barge transport at the expense of trucking.
United Kingdom — ramping up rail services
The UK government is under intense pressure to invest more to improve connectivity between the nation's major ports and key industrial regions. Upgrading rail routes to the two largest container ports —
Felixstowe
and
Southampton
— would remove 2,000 trucks off the roads every day, according to a report sponsored by the Department of Transport.
Felixstowe, the UK's top container hub, which is owned by Hong Kong-based Hutchison Ports, became the first UK port to handle more than 1 million TEU by rail in a single year in 2017, as it responded to the requests of ocean carriers and shippers. "Rail is an increasingly important differentiator for shipping lines as well as importers and exporters ... and rail is also a key factor in reducing the environmental impact of transport and helps reduce road congestion," said Clemence Cheng, executive director of Hutchison Ports and CEO of the port of Felixstowe.
Ports are often encouraged by shippers to boost rail connections to the hinterland. Walkers Shortbread, a Scottish company that exports to the United States, was one of the first shippers to use a new rail freight service between the port of Liverpool and Glasgow launched by Peel Ports and Germany's DB Cargo in May.
"This is an important milestone event for us and our partners, DB Cargo," said Jouke Schaap, container director at Peel Ports. "We know that cargo owners are looking for more efficient ways of getting their goods from A to B, and this rail freight service provides them with a simpler, more cost-effective and environmentally friendly way of doing that."
"When we heard about Peel Ports' new rail freight service for containers connecting Scotland and the Liverpool quayside, we jumped at the chance to be one of its first customers," said Andrew Stokes, head of international sales at Walkers Shortbread.
The new rail service "provides us with direct, regular access to our gateway to America. We're currently exporting around 700 containers of shortbread to the US each year, and hope to see this grow in years to come, in part thanks to the integrated route to market offered via Liverpool."
The Danser group said it increased the frequency of a container rail shuttle between Rotterdam and Kehl, Germany, partly at the request of paper factory Kohler, one of its leading customers. The 92-TEU train shuttle, running alongside the company's barge service, transports a wide range of products, including wood, wine, beer, and cosmetics.
A broadening shipper base
Leading intermodal transport operators are also increasing their port connections to keep pace with a broadening shipper base.
Hupac,
the Swiss-based intermodal company, expanded its port-hinterland network with an agreement earlier in May to acquire ERS Railways, including its 47 percent stake in Hamburg-based railway company boxXpress, from US rail freight operator Genesee & Wyoming for an undisclosed sum.
The acquisition, which is expected to close in the second quarter, will add about 200,000 TEU per year to Hupac's current 1.37-million TEU annual traffic, and ERS's focus on the key German container ports of
Bremerhaven
and Hamburg will complement Hupac's extensive hinterland network out of Antwerp and Rotterdam.
Hupac is bullish about the takeover of ERS, which was established by
Maersk Line
in 1994 and sold in 2013 to UK-based Freightliner, which was sold by its Bahrain-based equity owners to Genesee & Wyoming two years later.
"Thanks to this acquisition, the Hupac Group will further strengthen its position within the European maritime hinterland logistics, a segment with substantial growth over these last few years and secured future growth potential, as globalization will further require strong networks from the ports to the hinterland and from the hinterland to the ports," the Chiasso-based company said.
Hupac is continually adding to its current 110 trains per day operation with increasingly ambitious services. In February it launched a twice weekly shuttle linking terminals in Rotterdam and
Duisburg
, Germany, with a terminal in Halkali, Istanbul.
The rail sector stands to benefit from continued barge congestion at Europe's top container ports and an increasing shortage of truck drivers across the continent, but it has to improve its performance, particularly in the majority of European countries where railways are still state-owned, if it is to win more skeptical shippers.