Translated from LIVORNO 24 ONLINE:
Accident at Livorno port (IT) on 15 July 2018. 21 year old worker crushed by a load during Ro-Ro operations.
A 21 year old worker was injured at the port of Livorno, with crushing injuries to the hand and chest while they were carrying out operations of coupling a trailer. It happened last night and after the first aid and the operation in hand, the recovery prognosis for the young man is 40 days. Participants on the ship where the incident took place were the port authority, the ocean carrier and the ASL.
LONGSHOREMAN SUCCUMBS TO INJURIES SUSTAINED IN DOCKSIDE ALLISION [CHARLESTON, SC – 10 AUGUST 2018]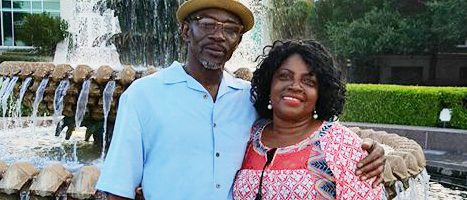 With great regret, Blueoceana Company received word last night that a longshore worker and member of ILA Local Union 1422 succumbed to injuries he received last Wednesday, when his privately owned vehicle allided with a stringpiece bollard at the Wando Welch Marine Terminal in Mt. Pleasant (Charleston Port), South Carolina.
ILA member Dwight Collins reportedly became suddenly incapacitated while driving along the dock to a parking area, in preparation for operations at an awaiting container ship. The right front side of his automobile apparently struck the bollard with great force, shearing the right front tire assembly from the vehicle. From available photographs (see below), we surmise that the wheel was propelled into the starboard side of the adjacent ship whereupon it was deflected and ultimately came to rest some twelve feet away from the automobile's opposite (left) side.
The impact folded the front end of the automobile to the extent that emergency responders had to utilize a hydraulic apparatus to pry apart the wreckage and ultimately free the victim. It took some time….. Once freed, Mr. Collins was rushed to hospital where physicians, we understand, found an extensive liver rupture. Despite their continuing efforts, he passed away yesterday (10 August) evening.
Presently, through several means, it is conjectured that Mr. Collins had an existing medical history within which incapacitating seizures were a part. How such seizures were being controlled and to what extent recent events may have provided a cautionary outlook, however, are issues that a complete investigation would be obliged to explore.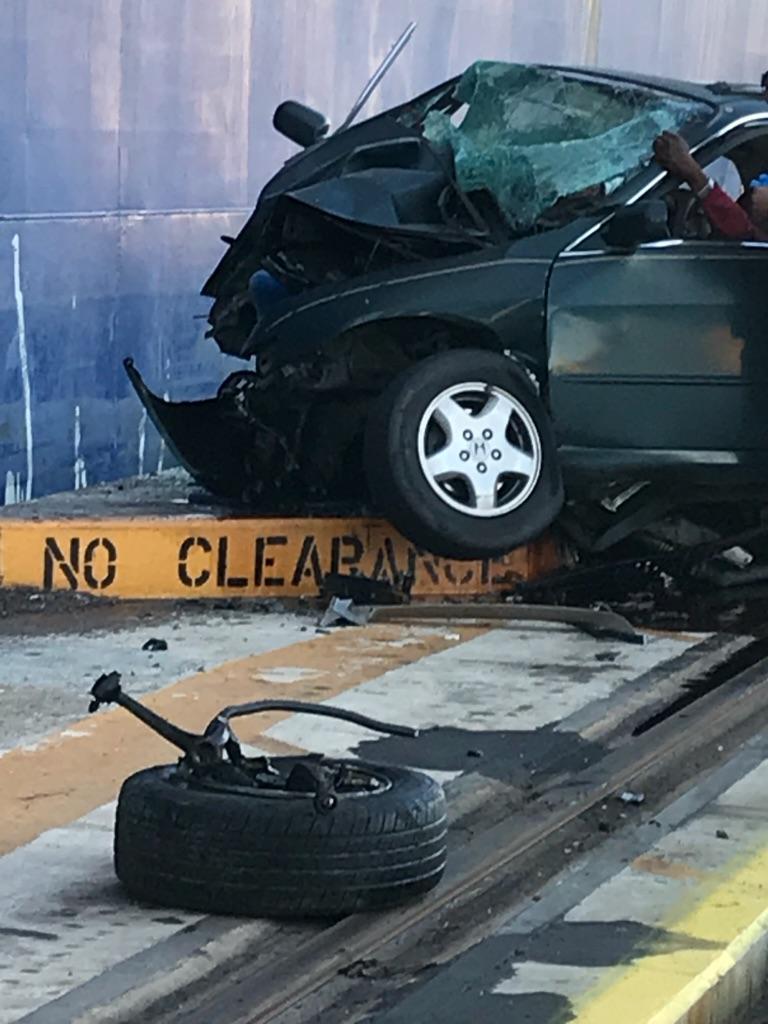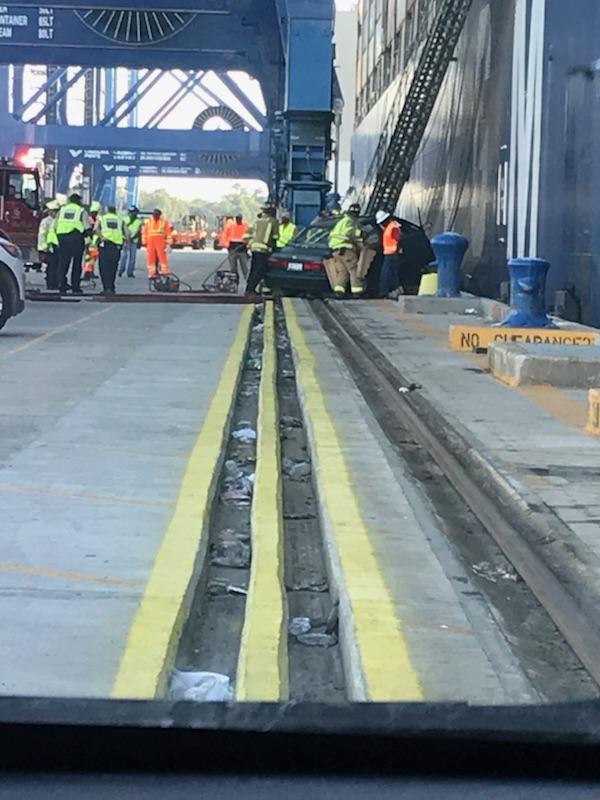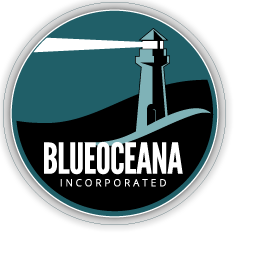 SPANISH DOCKER STRUCK & KILLED BY FALLING CARGO [A CORUÑA, GALICIA (ESPAÑA) – 06 AUGUST 2018]

Carlos Asenjo, a 44 year old waterfront worker, was killed aboard a vessel that was loading a cargo of float glass yesterday afternoon at the Calvo Sotelo docks in the Galician port of A Coruña.
Reports coming to Blueoceana Company indicate that Sr. Asenjo was in the hold of an as-yet unnamed ship when the movement of glass aboard became unstable and failed. Parts of the draft fell upon the worker with lethal force.
Media reports (see links below) indicate that a labor organization representing workers at the port have been critical of occupational safety efforts on the part of operating companies there. They allege that the hiring of temporary, poorly trained and inexperienced workers has resulted in the deterioration of a safe work environment.
Update [11 August 2018] : As it turns out, use of the phrase "Rough Translation" (see above) couldn't have been more appropriate. Information coming to us from Spain this evening is conclusive in establishing the fact that the accident chronicled here did not occur aboard a ship, but rather occurred within a large warehouse within the marine terminal. We regret the error, and can only point to the sometimes imperfect products of online translation services and our own linguistic challenges.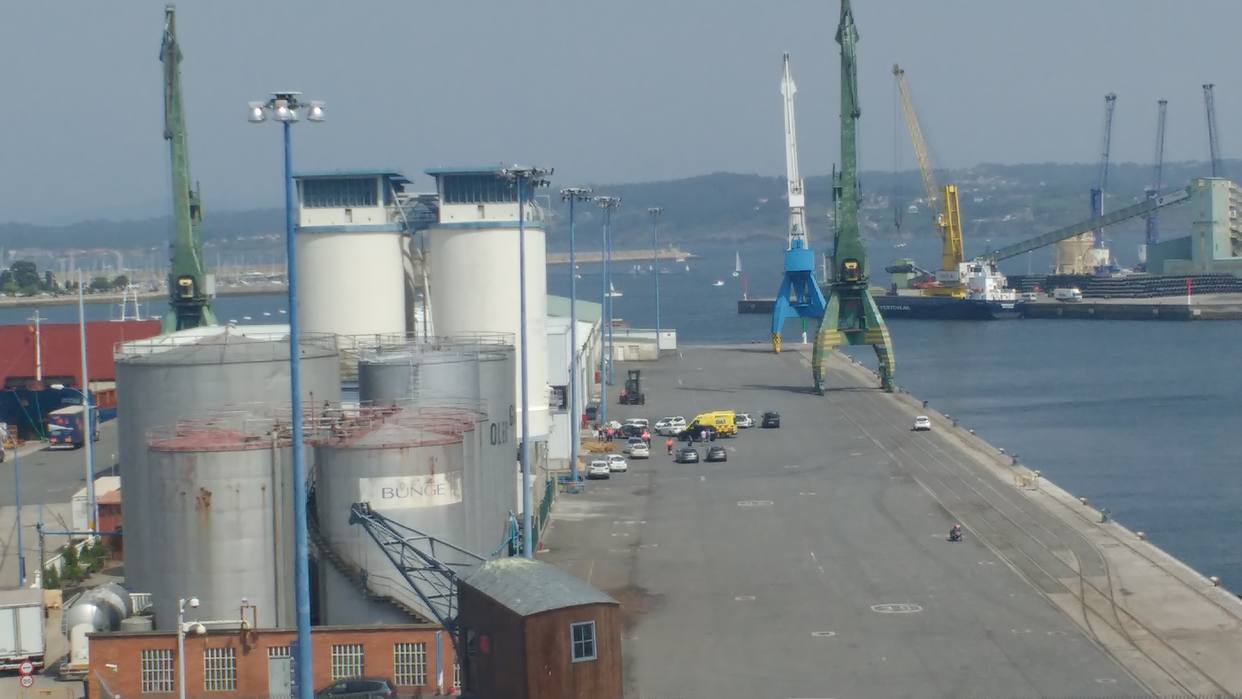 Above: The Calvo Sotelo docks at A Coruña.