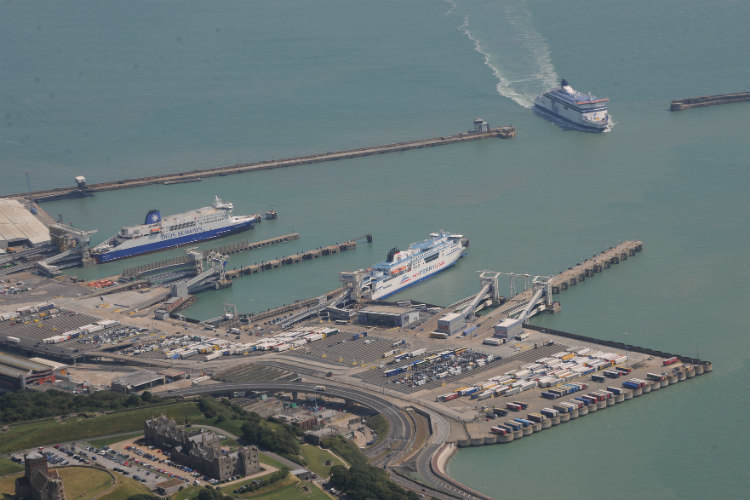 Port sources expect the UK government to green light inland clearance to avoid coastal chaos
A 'no deal' Brexit will see Britain wave trucks through ferry ports pretty much as now, with any necessary customs clearance handled inland, according to sources who have been briefed on government thinking.
No real changes will be needed for imported breakbulk or containerised cargoes either, as most of them already arrive from non-EU countries and existing arrangements can readily be maintained.
The hope is that these steps will avert the kind of congestion crisis at key ro-ro facilities such as Holyhead and Dover which many in the industry regard as a real risk unless Britain and Brussels come to a workable arrangement on the UK's departure from the EU.
Only 1-2% of inbound lorries currently experience any kind of checks at all, largely to circumvent potential people trafficking or cigarette smuggling, or on the basis of specific intelligence.
The best outcome, most ports industry people believe, would be a negotiated settlement that either gives Britain official customs union membership, or at least the main benefits that flow from it.
While there is little apparent enthusiasm for inland clearance, which will probably entail the use of customs agents at cost to the consignee, it would at least avert worst-case scenarios.
The development came as Brexit secretary Dominic Raab yesterday launched the first batch of what will eventually be 70-80 so-called technical notes, outlining how the government will deal with the no-deal scenario.
Each of the documents will be between one and four pages long, and set down what businesses and citizens should do if amenable terms are not reached.
Most mainstream coverage has focused on the implications for consumers, particularly the news that Britons will face higher surcharges when using their credit cards to buy goods from EU countries online, or when visiting EU countries for leisure or business.
However, a number of the papers are expected to be of direct relevance to the shipping and ports industries. Lloyd's Loading List has been told that one will centre on seafarer certification, although it was not among the papers published yesterday.
Sources also suggest that a note on maritime safety has been deemed "too technical" for general consumption and has been quietly shelved by the Department for Transport. The DfT declined to comment on these claims, referring calls to the Department for Exiting the EU.
Exporters are advised that in the event of a no-deal Brexit, trade would revert to World Trade Organization terms. It may be easiest for them to hire a customs broker, freight forwarder or logistics provider to take on the red tape.
In a speech in London, Mr Raab insisted he was "confident a good deal is within our sights" and that Britain's departure from the EU without agreement – which would entail a reversion to trading on World Trade Organization terms – was "unlikely".
Shipping and ports warranted just one mention in Mr Raab's address, with a glancing reference to the need for engagement between port authorities.
Responding to the speech, the British Ports Association urged the government to find a modus vivendi with the EU.
Chief executive Richard Ballantyne said: "While it is sensible that the government considers all outcomes, we are hopeful that both sides will want to ensure that ports are free flowing on day one."
For ro-ro ports, no-deal could represent a serious challenge and lead to significant disruption at the border, he said.
EU negotiator Michel Barnier should seriously consider the latest proposals from the UK government, colloquially known as the Chequers plan, Mr Ballantyne said.
"The Chequers agreement and the government's Brexit White Paper proposals offered a solution to the challenge of possible new customs and borders checks, which to date appears to be the only viable option.
"Without agreement the fluidity of tens of thousands of freight vehicles which travel between the UK and the EU on a daily basis is at stake. It is vital that we get this right."
The UK Chamber of Shipping has broadly welcomed the first round of technical notices, but added: "There is still ground to be covered and detail to be teased out".
Most importantly, the government needs to accelerate the pace and sustain the momentum with which it is providing guidance on Brexit, it said.
"The technical notices released today are thin on real detail on what will happen and how Brexit plans will be executed in the event of no deal."
That makes for the danger of placing too great an onus on industry to figure out how business will be executed, particularly with respect to supply chains and cross-border trade, the chamber said.
First published on www.lloydslist.com