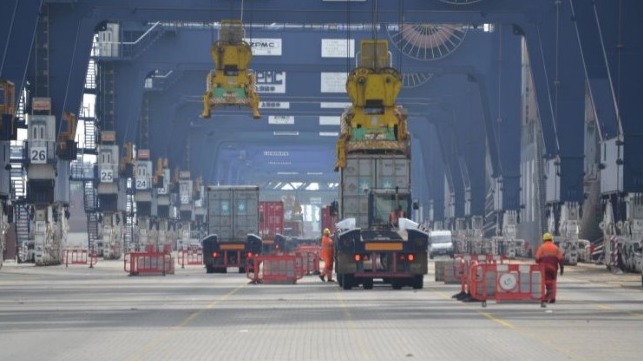 British freight forwarders say that they are still affected by delays and disruptions at the Port of Felixstowe, which has suffered from reduced productivity since the introduction of a new Terminal Operating System (TOS) software suite in June.
"Our members still face significant problems at the port with shipping lines cancelling calls; or operating a cut-and-run policy, where the ship leaves before all containers that are booked are loaded, or discharged," said British International Freight Association director Robert Keen in a statement Wednesday. "Those members are also experiencing knock-on effects at other UK ports where vessels are being diverted, causing additional cost and disruption."
Felixstowe, which is the UK's busiest container port, said in a statement this week that the TOS has been "stable," and that efforts to fine tune and optimize its effectiveness continue. However, the port admitted that quayside TEU volume remains below expectations.
"There are a number of focused upgrades to be delivered in the coming two weeks which will further enhance and improve productivity of the yard," Felixstowe said. "We expect these important upgrades to bring our productivity to levels before the implementation of the new system."
The port thanked its customers for their patience and support. However, Keen alleges that the port disavows any customer relationship with freight forwarders, even though it bills them and collects revenue from them. "We have made it clear to the port authority that BIFA believes that many of its members are the port's customer for the terminal processes that it undertakes after a vessel has been discharged for imports and prior to loading for export traffic," Keen said. "The port authority does not accept this line of argument and we remain very disappointed that it is not even prepared to discuss any kind of compensation for such a complete failure in customer service."
Software-driven disruption
When Hutchison Ports deployed its proprietary nGen terminal operating system (TOS) at Felixstowe in June, it expected improvements in port productivity through the software integration of all aspects of port operation. However, by early July it was reporting a drop in rail volumes from "teething issues." By mid-July, it was experiencing significant declines in terminal productivity. The challenges at the terminal included "inaccurate data about the position of some containers in the yard," "rail misses," yard stacking arrangements that resulted in "unproductive [box] moves," and below-target vessel and rail loading performance. These problems were serious enough that Maersk Line chose to reroute two of its Felixstowe services to Liverpool for 12 weeks, resulting in additional drayage miles for shippers.
As of late July, the port said that productivity had returned to 80 percent of the level seen before the implementation of nGen.