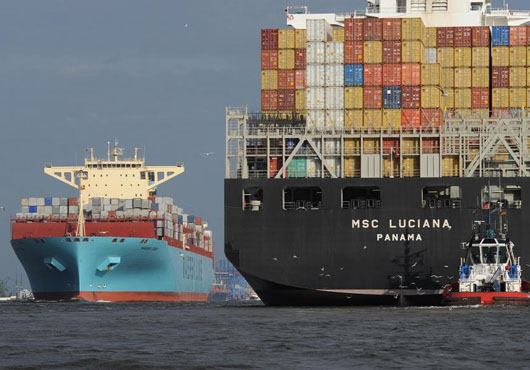 Will Waters |
Decision of Maersk Line and MSC to suspend AE2 service will remove around 5.7% of westbound capacity, but is more about damage limitation in the slow demand months ahead, argues Drewry
The decision earlier this month by the 2M alliance carriers Maersk Line and MSC to suspend their AE2 Asia-North Europe service is not intended to raise freight rates, but should limit the decline in prices in the slow demand months ahead following a somewhat disappointing year so far for carriers on the trade, according to container shipping analyst Drewry.
In it weekly assessment of global freight rates from the World Container Index, Drewry noted that freight rates on Shanghai-Rotterdam last week decreased, week on week, by around 6%, or $107, to $1,555 per feu, while rates from Shanghai to Genoa fell by around 3%, or $55, for a 40ft box to $1,518, although they remain up, year on year, by 7% and 5%, respectively. In contrast, average Asia-US spot prices are up substantially on a year-on-year basis, up by 54% for Shanghai-Los Angeles and by 70% for Shanghai-New York.
In its upcoming Container Forecaster report, to be published at the end of September, Drewry notes that it has been a tough year for carriers plying their trade on the key Asia to North Europe corridor. "The demand growth that has been evident elsewhere, such as in the transpacific simply refuses to come," Drewry noted highlighting that after seven months of the year, westbound volumes from Asia to North Europe were down by 1%, following "lacklustre" demand in the two key import markets of the UK and Germany.
"The trade has had to endure rough years in the recent past − declining by 4% as recently as 2015 − but the issue has been made more acute this year due to the heavy influx of new tonnage joining the trade. The upshot is that headhaul utilisation has fallen from an average of 91% last year to a meagre 84% up to the end of July," Drewry added.
"With those supply and demand fundamentals trending negatively, it is therefore no surprise that spot market freight rates have spent the greater part of this year below the corresponding level of a year ago. Carriers have attempted to prop up utilisation with ad-hoc skipped sailings, but heading towards the traditionally slower post-summer season, something much more radical was required to prevent rates from slumping in the weeks leading to China's Golden Week holiday at the start of October, just as they did last year and the year before."
Drewry said 2M carriers Maersk Line and MSC had "ridden to the rescue of the market" by announcing that they will suspend one of their flagship Asia-Europe loops, AE2/Swan, which uses ultra-large container vessels (ULCVs) of over 19,000 teu, at the end of this month.
While the AE2/Swan may be going, at least three of the ships deployed will remain active in the trade, Drewry noted, explaining: "That is because Maersk will cascade its three units from the AE2/Swan into the AE1/Shogun service, which currently uses slightly smaller units of about 17,500 teu."
Maersk confirmed to Drewry that the current AE1/Shogun ships will either be idled or sent to dry dock for maintenance. MSC hadn't responded by the time of publication.
Assuming it's a straight swap and all of the AE1/Shogun ships are pulled, the impact on capacity will obviously be slightly less powerful than had the bigger AE2/Swan ships been pulled, but it will still remove some 5.7% of westbound capacity from Asia-North Europe, Drewry noted.
"In one way, the move comes too late," the analyst added. "Had the ships been removed from operational duty in the higher volume months of June, July or August, the impact on ship utilisation and freight rates would have been more beneficial to carriers. For example, based on the latest available data for July, Drewry estimates that westbound utilisation would have swelled to 90% instead of the actual 85%, which would have given spot rates far greater impetus to rise."
Instead, the capacity saving from the suspension of the AE2/Swan and cascade – which equates to approximately 60,000 teu per month − won't cover the seasonal slowdown in volumes the trade endures every September and October, Drewry said. Over the past three years, westbound demand averaged around 120,000 teu less in October compared to August, it highlighted
"Ultimately, the temporary withdrawal of the AE1/Shogun ships is more an exercise in damage limitation, rather than a move designed to raise freight rates," Drewry said. "Combined with a raft of blanked voyages being announced almost daily by other carriers, it is possible that utilisation will manage to hold its current ground in the mid-80% range, in which case spot rates could continue to beat last year's trend, albeit still heading south.
"What would really help the spot market gain traction would be another service cut, but so far there is nothing to suggest that is a likely course of action. The most obvious source would be the Ocean Alliance, which will take over as the largest capacity provider in the Asia-North Europe trade when the AE2/Swan is suspended.
"Whether those lines are prepared to cede market share for the greater good of the market remains to be seen."
Drewry concluded: "It was imperative from a carrier perspective that some form of capacity rationalisation was introduced for the slower demand months. The 2M lines will be hoping that their generosity is reciprocated, but shouldn't count on it.
"Without further remedial action, spot rates are likely to stay above last year's corresponding level, but continue on a downwards trend."