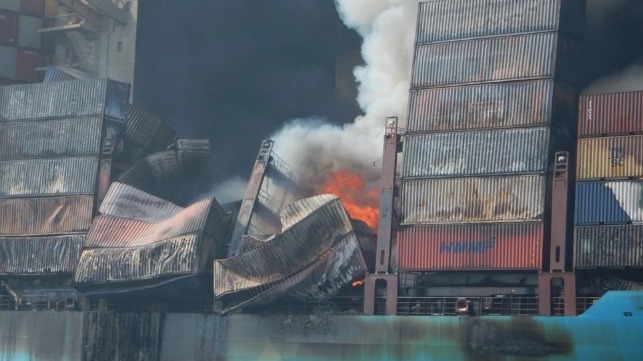 In the wake of the deadly fire aboard the Maersk Honam, Maersk Line has revised its guidelines for the stowage of dangerous goods. The new policy is fine-grained in comparison with the existing IMO standard, and it contains new limitations on container placement.
The new rule set - called Risk Based Dangerous Goods Stowage - is based upon an analysis of more than 3,000 UN numbered categories for hazardous materials, along with container fire statistics reported to the Cargo Incident Notification System (CINS). Based on these identified hazards, Maersk's rules divide each container ship into six different risk tolerance zones, depending upon the vulnerabilities of each area.
On Maersk's 750 boxships, cargo covered under the International Maritime Dangerous Goods Code (IMDG Code) will no longer be stowed next to the accommodations block and the engine room, which are defined as the zone with the lowest risk tolerance. Similarly, risk tolerance will be low below deck and in the middle of the vessel, and higher on deck fore and aft.
The rules are intended to fill gaps in the existing risk guidelines, which did not prevent the loss of life and extensive damage caused by the Maersk Honam fire. "All cargo aboard Maersk Honam was accepted as per the requirements of the International Maritime Dangerous Goods Code and stowed onboard the vessel accordingly. Despite this, as the fire originated in a cargo hold in front of the accommodation which held several containers with dangerous goods, it had an unbearably tragic outcome," said Ole Graa Jakobsen, head of fleet technology at Maersk.
In conjunction with other members of CINS, Maersk plans to keep reviewing dangerous goods policies. It is convening a working group with ABS, Lloyds Register, the International Group of P&I Clubs, the National Cargo Bureau, the TT Club and Exis Technologies to develop new best practices. Once the project is completed, the results will be published and presented to the IMO.
On March 6, an intense fire broke out in the Maersk Honam's forward holds, forcing her crew to abandon ship. SAR efforts continued until March 12, when rescuers found three bodies and determined that one missing crewmember was likely deceased. 2M partner MSC confirmed that the Honam would seek refuge at the port of Jebel Ali, but the container ship remained in the Arabian Sea for weeks as salvors attempted to extinguish remaining pockets of the fire. She finally arrived at an anchorage off Jebel Ali in late April, and the last of the "hot spots" in her holds were put out in mid-May.