One reason why managers fail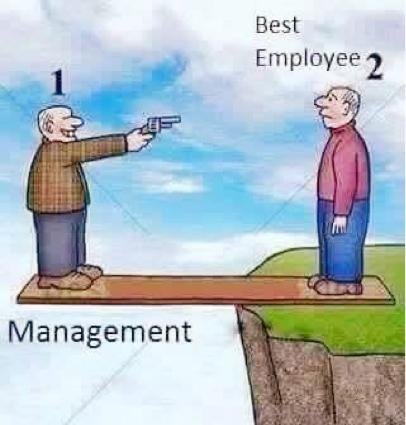 1 reason why managers fail: inability or inaptitude in retaining top talent.
Many bosses have this attitude that anyone is replaceable easily like gloves, that they can hire someone even better. They are fooling themselves, and do disservice to their company. A good employee has knowledge of systems , products and processes. They have trust relationships with clients and co-workers that takes years to build. When you lose a good employee, you lose part of your culture. You lose part of your company. And you may lose your own future.
The John Lewis Partnership is the largest employee-owned company in the UK.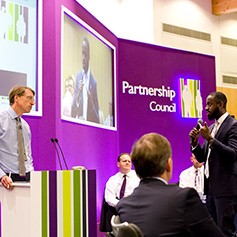 The Partnership Council meets four times a year and represents all Partners.
When our founder, John Spedan Lewis, set up the Partnership, he made it both commercial and democratic. He also signed away his personal ownership rights to allow future generations of employees to take forward his 'experiment in industrial democracy'. Our structure gives our management the freedom to be entrepreneurial and competitive in the way they run the company, while giving Partners the rights and responsibilities of ownership through active involvement in the business.
Watch a short film of Partners explaining why our business is different - Being a Partner video (2:14 minutes)
Partners are at the heart of everything we do. Partners' happiness, through worthwhile and satisfying employment in a successful business, is the very first sentence of the first principle in our written Constitution, which has endured for nearly a century.
All of our Partners are co-owners in the business and have a democratic voice and share in the success of the business. Every pound of profit we make is reinvested to grow the business or distributed to Partners through an annual bonus.
Our democratic model
The Partnership model enables Partners to use their voice as co-owners to create a better business both today and in the future. Through our democratic structures, Partners can share their views about our business throughout the year on a range of topics and in a number of ways. Every Partner has the opportunity to have their say on the extent to which we are delivering against our ultimate purpose - the framework for the Partnership model which sets out the aspiration for our co-ownership culture.
The employee-owned sector
There are many businesses that are substantially or wholly owned by the people who work for them. The employee-owned sector delivers 4% of UK GDP annually and this contribution is growing.
Employee-owned businesses take a variety of forms and operate in almost every sector of the economy. They are united by an ethos that puts people first, involving the workforce in key decision-making and realising the potential and commitment of their employees. These companies are represented by the Employee Ownership Association which promotes the interests of the sector to government and other stakeholders.
To find out more about employee ownership: