Major terminal operator DP World has announced a joint-venture project with industrial engineering company SMS Group, to "revolutionize" container handling in ports.
According to a statement, an intelligent storing system will be applied for the first time at Jebel Ali Terminal 4, in time for the Dubai Expo 2020 world fair.
Originally developed by SMS Group subsidiary AMOVA, for round the clock handling of metal coils, the High Bay Storage system will now be applied to the port industry.
Rather than stacking containers directly on top of each other, a standard practice in ports and terminals for decades, SMS' system places each container in an individual rack compartment.
Containers are stored in an eleven-story rack, creating 200% more capacity than available at a conventional container terminal, in less than a third of the space.
The rack is designed so each container in the stack can be accessed without having to move another one, allowing for 100% utilization in a terminal yard.
As a result, the system is expected to increase the speed, energy efficiency and safety of terminal operations, as well as reducing costs by shortening the time taken to load and unload megaships by up to 30%.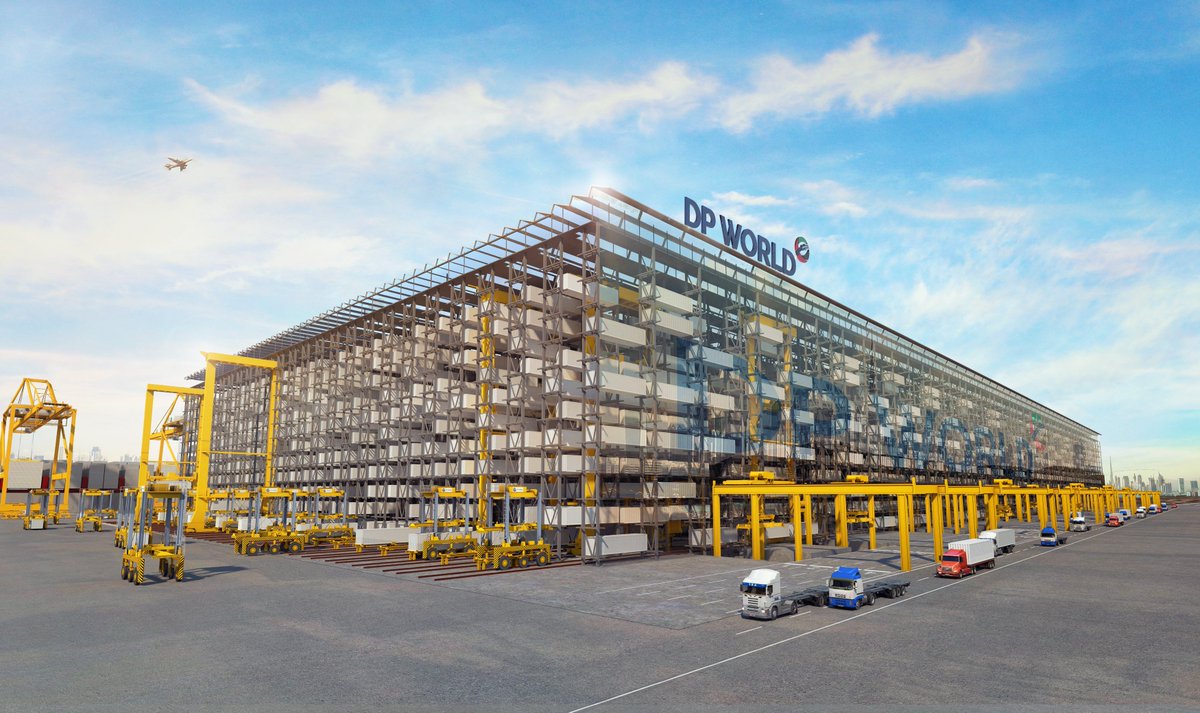 Sultan Ahmed Bin Sulayem, DP World Group Chairman and CEO, said: "DP World's experience and expertise in moving cargo coupled with the technology of AMOVA will ensure the system is remarkably efficient and relevant for present and future operations.
"As a world first in our industry we are tremendously excited by its potential and ground-breaking features.
"Our engagement in new technologies is a major priority and we have become known for seeking ways that transform the way goods are moved across the world. Innovation is part of our DNA and at the heart of our success."
Burkhard Dahmen, CEO of SMS Group, added: "The application for container terminals is a direct result of our "New Horizon" strategy, in which SMS transfers technology from the metallurgical sector to other industries."
Dr. Mathias Dobner, CEO of the joint-venture, also commented: "This new container handling technology allows cities to use their expensive and sensitive land and waterfront areas more effectively.
"Our system will significantly increase the productivity of handling ships on the quay. This means that quay walls can be shortened by a third. This disruptive innovation will greatly improve the financial performance of container ports, as well as their overall appearance."
PTI Advent 2018: Will DP World's Storage System Work?
According to DP World, this storage system will create 200% more capacity than available at a conventional terminal, and allow for 100% utilization of the terminal yard.
Kris Kosmala, General Manager Asia Pacific at Quintiq, has given his verdict on the innovation, which will be applied for the first time at DP World's Jebel Ali Terminal 4:
"Container terminal operators facing twin problems - lack of physical space and increasing volumes of containers flowing through their facilities - might have noticed the recent announcement of a joint venture between SMS Group and DP World.
In short, SMS Group conceptualised a way of stowing containers, before loading, inside an automated, multi-story warehouse.
Similar concepts have been ideated by Hong Kong and Singapore terminal operators, who faced a problem operating in dense urban environments without much opportunity for expansion, but until now the cost and complexity of such a project has prevented serious investment.
It took DP World and SMS Group to demonstrate whether a solution of this kind could be reliably constructed and sold to interested terminals.
Could this concept take off on a mass scale? At this point, I am doubtful. There is no doubt that some space-constrained terminals could see it as a panacea to their space management problem.
However, with the cost of implementing and maintaining complex automation within the warehouse, that will reliably pre-position containers within the structure, I doubt it will be able to beat the Total Cost of Ownership (TCO) of a common solution, such as using gantries.
Not all technical questions have been answered by the innovators. For example, how will they handle the failure of one container moving mechanism within the structure, so that the movement of all other containers can continue while the problem is being resolved?
This is not as simple as taking a malfunctioning gantry out of service and bringing a new one in to continue the housekeeping tasks.
Another unanswered problem is the management of container fires erupting within the structure. There may well be backup solutions to both problems, but that only increases the overall, up-front cost of the project.
As big proponent of digitalization, I would recommend that terminals interested in this mechanical solution, to housekeeping and yard space management, investigate IT solutions instead.
My cost-competitive approach would focus on advancing the use of mathematical optimization and artificial intelligence (AI) to achieve the same efficiency with ground-laid stacks of today.
I would also look at rethinking stack organization in the first place, as carriers often make "on the go" decisions to change the stowage plans, deny container loading, or to roll awaiting containers to give priority to a more profitable customer.
These events happen very close to sailing time and could inhibit the efficient operation of the container warehouse proposed by SMS Group and DP World."