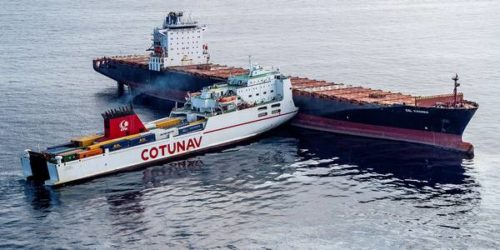 An investigation into the collision involving a roll-on-roll-off vessel named Ulysse and a containership named Virginia in the Mediterranean Sea in October 2018 has identified human errors on a multitude of levels as the root cause of the accident.
According to Tunisian, French and Cypriot investigators who revealed their findings this week, the investigation revealed that the watch officer on board the Tunisian ro-ro Ulysse was alone on the bridge and on his phone, far away from radar, at the time of the collision early on October 7th.
Officers on the Cypriot container ship Virginia also did not attend to radar alarms, even as investigators questioned why the ship had dropped anchor in the middle of a shipping lane.
The Ulysse was underway from Genoa, Italy to Tunisia when it collided with the CSL Virginia, which was at anchor approximately 17 miles of the island of Corsica early in the morning on 7 October 2018. The collision resulted in the bow of the Ulysse penetrating deep into the hull of the containership, resulting in the release of some 500 cubic meter of heavy fuel oil.
The two ships remained connected for days before they were eventually seperated.
"This accident is due to human error shared between the Tunisian boat's team and that of the Cypriot boat," said Youssef Ben Romdhane, director general of sea transport in Tunisia's commerce ministry, according to a report by the AFP.
"The captain of the Tunisian boat was busy… making private telephone calls. He was far from the radar screen that warns of danger. He was alone", Romdhane said.
For its part, investigators found that the CSL Virginia, under pressure from the ship owner, was anchored in an area Romdhane described as "inadequate."
"According to testimony… this is the first time a ship had dropped anchor in this location… (on) a sea lane used by merchant ships," he said.
Damage to the vessels was estimated at 13.5 million euros, plus cleanup costs estimated at 10 million euros.
Copyright 2018 Ships & Ports Ltd. Permission to use quotations from this article is granted subject to appropriate credit given to www.shipsandports.com.ng as the source.