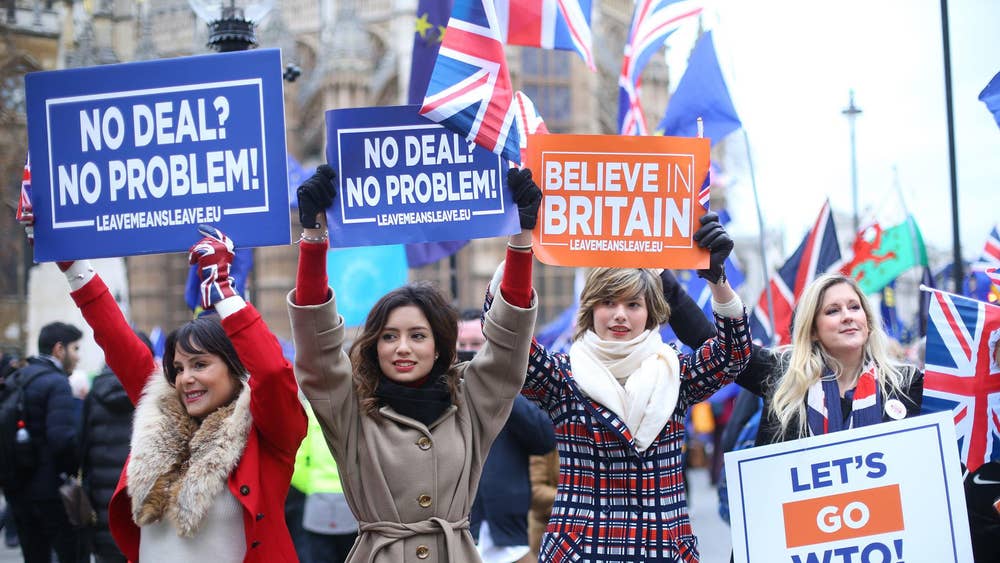 Rob Merrick
UK ports will wave through goods from the EU without checks if there is a
no-deal Brexit
to avoid huge traffic jams, it has been announced.
Tax chiefs have told 145,000 businesses they will be allowed to make declarations later – and postpone paying any import duties – to calm fears of border chaos.
The "temporary period" will last for up to one year at 20 of the busiest ports, says a letter from
HM Revenue and Customs
.
Geraint Davies
, a Labour supporter of the anti-
Brexit
Best for Britain group, said the move raised immediate questions about security.
"They said we would take back control of our borders but now the plan is to wave things through irrespective of our safety," he said. "We'll have no idea what is coming into our ports."
Hauliers have been protesting for months that customs checks at the Channel would take many hours, under existing plans if the UK crashes out of the EU without a deal.
They were faced with submitting a 40-answer declaration form for every consignment before entering Britain, taking an estimated 10 minutes to fill in.
The
Road Haulage Association
had warned that, given the average trailer has 400 consignments, it would take 9 people 8 hours to process it.
There was particular concern about the situation at Dover, the UK's busiest port, which is used 11,000 trucks each – triple the amount before the
single market
was created in 1993.
Today's "updated guidance" warns that anyone importing into Britain after Brexit will have to fill out a customs form before checking goods onto a ferry or train on the EU side.
But it adds: "For a temporary period, HMRC will allow most goods moving from the listed roll on roll off locations to leave the UK port or train station before you've told us that the goods have arrived."
Firms will be allowed to defer "paying any duty until the month after import", by setting up a direct debit arrangement.
The transitional simplified procedures (TSP) are expected to remain in place for more than a year, to give businesses time to prepare to use full customs processes.
Ferry operators and
Eurotunnel
have been ordered to have "reasonable belief" customers have made the appropriate customs declarations.
The HMRC letter adds: "You can do this through your terms and conditions that your customers use when booking their transport."
Mel Stride MP, a Treasury minister, said: "Leaving the EU with a deal remains the Government's top priority. This has not changed.
"However, a responsible government must plan for every eventuality, including a no-deal scenario. HMRC is helping businesses get prepared."