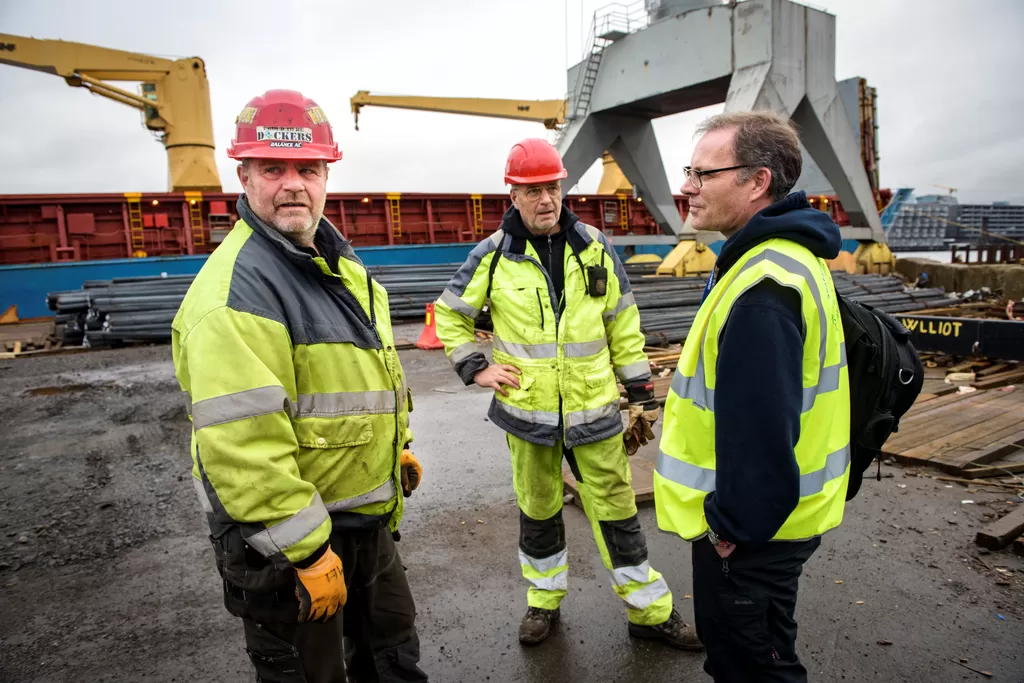 Dockers Hangarounds / Svein Lundeng
Congratulations to the Dockers in Oslo, and thank you to Seafront that belived in the Dockers in Oslo and employed them.
The Article:
Seafront takes over the Dockworkers in Oslo:
Port workers in Oslo get a job in a new company. Anders (58) rejoices that the pension is secure
On February 1, the port workers in Oslo discontinued their unloading and loading office, but already on the same day they had a new employer.
Ever since May 2015, Oslo Dockworkers' Association had run its own office, where they rented themself out to port operators who needed port workers to unload and load the ships they got to the quay.
The office was established when the port operators decleared Oslo Loose and Cargo Office bankrupt , but in recent months it has become clear that OBF no longer had money to continue its own company.
Therefore, they decided to liquidate the loading and unloading office on 1 February. This meant that the eight remaining port workers would be left without work, and with the risk of losing the opportunity to get AFP(Contractual pension) from the age of 62.
Now, however, it is clear that the company Seafront, which among other things has employed 30 port workers in Kristiansand, hires the eight port workers in Oslo. It causes Anders Wennevold (58) to cheer.
- We got some signals the last couple of weeks that something could happen, but now I'm just incredibly happy. It was almost like I didn't think it was true when we were told. It has been incredibly tough, not least mentally to stand in this for so many years, but now finally the future looks bright, says Wennevold on the phone from the quay at Grønlia in Oslo where he is at work to unload a boat.
He gladly admits that especially the AFP bit has worried him.
- I have been working as a harbor worker for almost 20 years. I'm 58 and a half years old and went all the way to the basement when I discovered before Christmas that I had to earn 1G a year over the last three years before becoming 62 to get AFP. Of course I should have checked it earlier, but then I had to go some rounds with myself. Alone, he says.
Hoping for full-time jobs
With the Seafront in, all dark thoughts are washed away.
- Port workers in Oslo have been bullied and mistakenly stamped as lazy, communists and assholes. It's no wonder we struggled to get people to use us with such a reputation. Then it will be easier with the seafront. It is a company that seems very serious, so I just look positive about this. They have also hired us earlier, and have been very pleased with the jobs we have done for them, he smiles.
The work of the port workers will for now be just as before. That is, they will be summoned when people are needed for unloading and loading. However, Wennevold hopes that this is just the start.
- I want to believe that they have a greater influence on the customers in Oslo than we had in the OBF, so I hope that there will be so much to do that we can come back as full-time harbor workers. This also applies to my old colleagues who have joined the harbor. Many of them say they want to go back to the pier. I hope I'm okay, because we were a damn nice bunch. We were welded together so that it lasts, but that is how it is when you are more with your colleagues than with your girlfriend, he laughs, and draws out OBF leader Roar Langaard and two other colleagues as important for landing the Seafront agreement.
- Without Kenneth Eidsvaag and Elnar Henriksen, this would not have happened. Kenneth and Elnar have, certainly without being aware of it, got us into the Seafront by doing a fantastic job for the Seafront when they have set a record for every aluminum boat they have unloaded. They have made sure that I am no longer nervous about AFP. I rejoice well when this became clear, and I am so happy on the guys behalf. I see that the mood of the guys is something completely different now, says Anders Wennewold.
CEO Jan Rune Løvlie at Seafront Dockers AS.
is also pleased.
- Nothing is better than that we have made someone happy while we have retained the competence of the port workers. We have been very pleased with the job they have done for us in Oslo since autumn 2016, and have only good experiences with the port workers in Kristiansand, too, says Løvlie.
He shares the goal of Wennevold that the port workers must work full time with loading and unloading.
- There is no doubt about that. We hope we will get so much to do that we can get these in full time. Until now, we have not had enough staff to cover such an expansion, but we do get it now, he says.
- Is this a win-win situation for both parties?
- We don't just do this to be nice. We believe this is good business for us, says a satisfied Jan Rune Løvlie in Seafront.
The small sections within a port are vital !!!!!!! never loose them and always support them. One day it might be YOU that needs the support and backing