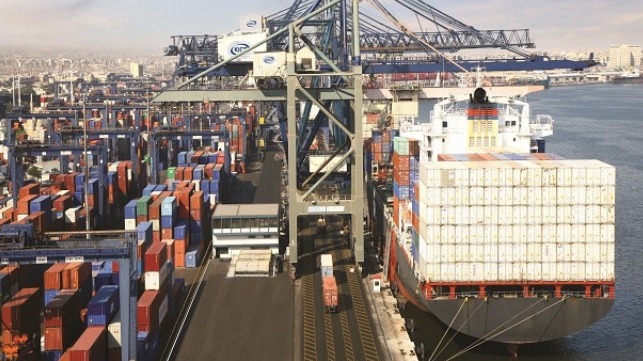 Last Sunday, a Pakistani dock worker was killed at Hutchison Port's Karachi International Container Terminal (KICT), according to the International Transport Workers' Federation (ITF). The victim, a 58-year-old yard checker, was fatally injured when a reach stacker reversed over him. He passed away at about 2300 hours on March 17 at the Civil Hospital Karachi, less than one hour after the accident.
"This is a tragedy. Every worker deserves to go to work and return home safely, every shift, every day. Our thoughts are with [his] family, his workmates, friends and comrades at KICT Labour Union," said Paddy Crumlin, the head of the ITF's dockers' section. "Today we mourn for a man who was only two years from retirement."
Crumlin blamed Hutchison Ports, the operator of KICT and the world's largest stevedoring company, for allegedly poor safety practices. A worker who requested to remain anonymous told the ITF that "safety standards in the yard area are very bad," citing allegedly poor lighting and a lack of traffic management.
ITF asserted that no official inquiry has been initiated by KICT's management, and called on Hutchinson's global team to intervene and launch a joint labor/management investigation into the incident. KICT and Hutchison have not yet published a statement on the accident.
"This is yet another tragic incident that again raises serious questions about Hutchison's safety procedures, and how seriously the company takes its responsibility to ensure the health and safety of its employees in ports worldwide," said Crumlin. "Hutchison needs to know that the ITF will fight to make sure every worker goes home safe, every day."

Five workers died at Hutchison's Jakarta International Container Terminal (JICT) between 2016 and 2018. In the past, ITF has blamed these casualties on the replacement of unionized dockers with non-union contract labor at JICT.
Be it a Unionized or non - unionized contract worker everyone needs to follow one set of safety rules and regulations no mater what country they be working in / It must be the full responsibility of the port officials, the terminal facility operators and the vessel owner to ensure that all safety requirements and procedures are up to date and being complied with / Everyone must be held accountable for their actions or non actions /