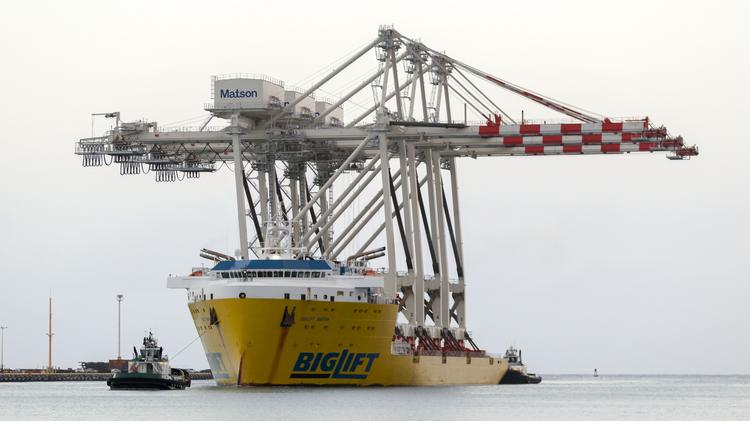 Matson Inc. set a new milestone in Honolulu Harbor as three new 65 long-ton capacity gantry cranes, the biggest ship-to-shore container cranes sent to a commercial Hawaii harbor, were delivered on the morning of Saturday, April 13.
According to Matson spokesperson Keoni Wagner, the delivery of the 1,290 ton cranes is part of a multi-year, $60 million terminal expansion and modernization project for Matson's Sand Island hub.
"Matson invests a lot into its Hawaii service," Wagner said to PBN. "It is part of the process of completing the Hawaii fleet renewal with four new vessels. These new ships will be the largest container ships built in the United States, bigger than any vessel we have used before. The bigger cranes are needed to fully service the larger vessels."
On Monday, the cargo vessel carrying the cranes was repositioned so Matson could begin preparations for unloading them, which takes up to several days. A specially designed ramp was installed to roll the cranes off the ship.
The cranes were made in Japan by Mitsui Engineering & Shipbuilding to have a greater height and lifting capacity compared to currently used cranes according to a news release sent out by Matson (NYSE: MATX) on Friday.
PBN Photographer Eugene Tanner captured the arrival of the cranes pulling into the harbour on Saturday, click on the image above for a slideshow