50 years after the first British container ship set sail, we have teamed up with P&O Heritage to look back at one of the greatest revolutions in global trade - and what the next revolution could look like.
When Encounter Bay, the first British container ship, set sail 50 years ago this month, her owners, OCL, knew they were pioneers in uncharted waters. But the course they took, would revolutionise the handling of cargo for the next half century and beyond.
Their legacy continues to inspire us; as we look to lead the next logistical leap and deliver smarter trade for all.
Courage & Collaboration
In the mid-1960s, the future of British liner shipping was under the threat of growing competition from the US and Malcom McLean. As the inventor of the container, and owner of Sealand, Mclean had a competitive advantage:
"…the USA, led by McLean, had the ball at its feet in front of an open goal."
The chief executives of four British shipping giants: P&O, Alfred Holt & Co. (Ocean), British & Commonwealth Shipping Co. Ltd., and Furness Withy & Co. Ltd., responded by joining forces to form Overseas Containers Limited (OCL) on 25
TH
August 1965.
"The formation of OCL will one day, when our successors look back on it, mark the moment when a new design for cargo liner operations…began to be sketched out".

Sir Donald Forsyth Anderson, P&O Chairman, 23

rd

March 1966.

As radical and revolutionary as the move from sail to steam, containerisation called for an entirely new transport system and major capital investment in logistics and infrastructure (including ships, ports, roads, rail and distribution hubs).
Collaboration was critical to the success of containerisation. With some of biggest names in liner shipping in tow, OCL was well placed to lead Britain into the box age.
Containerisation & Controversy
In spite of methods and machinery to unify loads (from cargo nets to fork lift trucks and palletisation), cargo handling in the 1960s was still highly labour intensive and time consuming. Containerisation promised to improve both, but not without some controversy…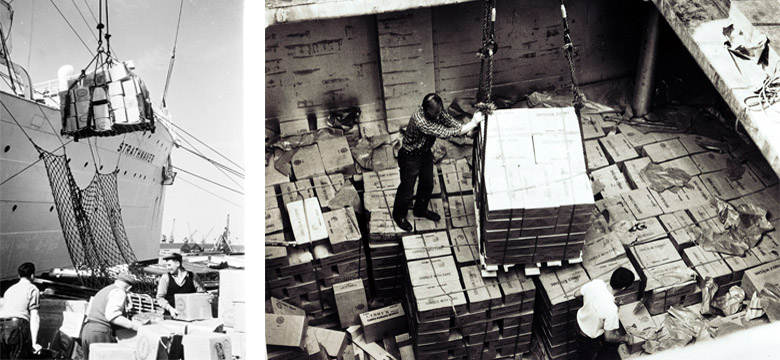 As early as 1966, the Port of London Authority predicted (based on 1 million tons of cargo per annum) that 21 container berths could do the equivalent work of 300 riverside wharves and 160 enclosed docks.
Fearing job losses, dockers in London's Upper Docks resolved to disrupt OCL's development of Container Berth 39 at Tilbury. The industrial dispute, which began in 1969, lasted 15 months.
So it was that, at 9.05 on 6
th
March 1969, the largest container ship in the world, Encounter Bay, departed from Rotterdam, not Tilbury, on her maiden voyage to Australia. Her full complement of 1,300 containers having first been transhipped, from Harwich and Ipswich, in a covert plan called "Operation Bolthole" (conducted with the military precision of its architect, General Prior-Palmer).
Filled with goods ranging from "toothpaste to caterpillar tractors", Encounter Bay arrived at OCL's new facilities at Fremantle on 28th March before continuing to Sydney and Melbourne. Although the new 'through' service was welcomed with open arms down under, OCL encountered its fair share of labour difficulties in Australia too.
"The Computers are coming"
The drive towards greater automation and efficiency in container handling extended to OCL's pioneering use of computers and an integrated booking system which was well ahead of its time. Booking data input, into the IBM 360/30, was used to generate the ships manifest and conveyed by magnetic tape (called an international exchange file) to the office in Australia.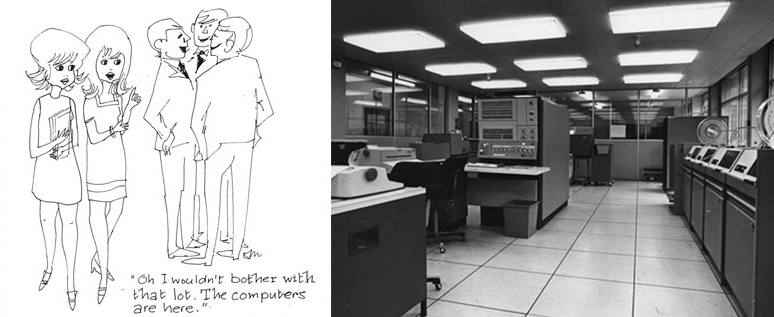 Tracking the location and status and contents of individual containers relied on a system of punch cards, control boards and small magnetic tags, giving rise to the cry "keep tabs on your tags boys"!
Lasting Legacy
By the end of 1969, 1 million tons of cargo, in 36,681 containers, had been handled at opposite ends of the world. OCL had taken delivery of 5 'Encounter' class container ships and, together with another consortium, ACT, operated a weekly service to Australia.
White Bay, Syndey and Coode Island, Melbourne
In just four short years, OCL had masterminded the construction of container terminals in London, Sydney, Fremantle & Melbourne, negotiated rail and road contracts and built container bases in Birmingham and Fremantle.
"We created the ships and the terminals, and the cranes and the fork-lifts and the straddle carriers, rail contracts, the road contracts, the container bases, the documents, the new commercial procedures and everything that goes to make what is now commonly accepted as a through-transport operation. It was the first and the first is always the most difficult".

Kerry St Johnston, OCL's first commercial director
New ships, new routes and new trades joined the OCL enterprise and in 1976 the company handled its millionth container. In 20 years (and shortly before the company was acquired by P&O in 1986) OCL had returned a healthy £338 million profit, on an initial investment of £66 million.
Attention turned to Southampton in 1970 when OCL acquired a 65% share of Solent Container Services (SCS) - the forerunner of SCT, known today as DP World Southampton. Photo: SCS, 1972
Containerisation was here to stay and the pioneering endeavours of the few were paying dividends for the many. This brave few lead the movement from bundles to boxes and future proofed their place in global trade. It was a revolutionary, risky but undeniably smart move…
In the years that followed, container ships have evolved to handle more than 20,000 twenty-foot equivalent unit containers. P&O Ports was purchased by DP World in 2006 and the ever-developing port infrastructure forms a core part of this trade enabling organisation's logistics solutions offering.
Bytes and Boxes: The next big thing?
Today we are getting smarter still.
Another 19,000 TEU vessel calls at DP World London Gateway
In the UK, DP World is innovating when it comes to the physical handling of containers; we're introducing automation to bring about greater efficiencies, safety and reduce the carbon footprint of our operations. It would have been hard for those Encounter Bay pioneers - and indeed, for Mr McLean himself - to imagine, as they set sail on the start of a trade revolution, that one day containers would be shifted around the port using robots!
We're working more closely with all of those involved in moving a container to ensure these boxes can get in and out of our ports, and that their contents can get to consumers faster.
Like the pioneers of our past, we continue to automate, innovate and improve our services looking to the future and the next big thing. Is that next big thing the digital data revolution?
DP World Southampton - which started life as SCT - today
He said: "Data has the power to disrupt and drive the supply chain as we know it. And, as our capacity to capture, analyse and interpret it increases, so too will our ability to address one of the biggest problems currently plaguing the industry: visibility, or more precisely, the lack thereof."
So are we on the brink of the byte revolution..?
The way I see it, these are exciting times and at DP World we are not going to sit back and let them pass us by. As I write, our teams are busy exploring the technologies and partnerships of the future. The best part in all of this? With the world still waking up to the power of the data at our fingertips, we're only just getting started."

Sultan Ahmed Bin Sulayem, chairman & CEO, DP World
DP World's UK terminals are already harnessing the power of data to facilitate smarter trade. We are refining and developing our Where's My Container tool, enabling container stakeholders to track the progress of cargo as it passes through our facilities – in much the same way that OCL pioneered in the early days of containerisation. But now, visibility is much greater and more detailed - and it helps plan supply chains that are growing ever more complex with the rise and rise of e-Commerce and Just In Time manufacturing.
The trade journey continues apace – and now we're riding the swell of the byte revolution!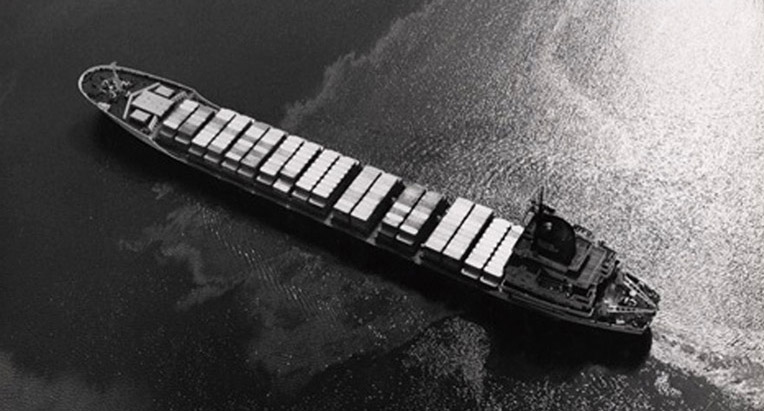 Encounter Bay has earned a coveted place in history as the first in a long line of record-breaking container ships. With a capacity of 1,578 containers she would be dwarfed today by her modern equivalents with 15 times the teu capacity. Encounter Bay's bell and a scale model of the vessel are just two among many thousands of treasured items in the P&O Heritage Collection, proudly preserved by DP World.
Learn more about the P&O Heritage collection here.
Read Data is the New Container by Sultan Ahmed Bin Sulayem, DP World Chairman and CEO, in full here.