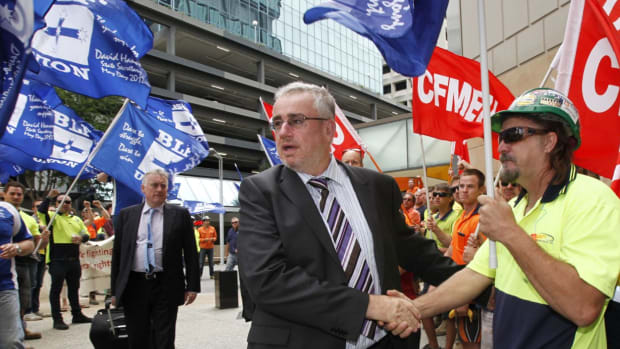 MUA Queensland secretary Bob Carnegie told DP World it had drawn him into its orbit and now must "bear the cost".
Glenn Hunt
DP World last week reneged on a deal with the union to allow wharfies to stop work and attend a four-hour stop work meetings on paid time at its Brisbane terminal this Thursday, as allowed under their enterprise agreement.
The meetings would have followed a crippling 24-hour strike in Brisbane Port this Wednesday and precede a four-hour strike on Friday.
In an email to DP World terminal manager Glenn Wayne last Friday, MUA Queensland secretary Bob Carnegie claimed he had been deceived and their relationship of mutual respect was now "dissolved".
"You have started this war but I will guarantee you I and my colleagues will finish it," the email said.
He told Mr Wayne to read up on military leaders from Prussia and the Soviet Union.
"Go home read Clausewitz, Napoleon, Rossokovsky, they are all coming DP World's way in the near future.
"However, reading the works of masters does not always bring understanding."
Stoppages, bans
About 1800 wharfies kicked off stoppages and bans on overtime and shift extensions at DP World terminals across the country from Friday in protest over the company's wage offer and its bid to cease the union's income protection fund.
So far the stoppages have largely occurred during off-peak periods and have not significantly affected freight, but shipping lines are concerned about escalation this week.
Mr Carnegie, who describes himself as a revolutionary socialist, said in the email "no one in this country, management or union, has consistently been in major industrial disputes than myself with a better percentage of win records".
"Now you have drawn me into this orbit, you and your company must bear the cost," he wrote.
He told The Australian Financial Review "this will be the most expensive four-hour stoppage DP World has ever contemplated. It will go on and on and on and it will never end."
The Fair Work Commission is expected to hold a hearing on the dispute on Tuesday.
A spokesman for DP World said the paid union meetings were granted before the union notified of protected industrial action.
"In light of this and in the best interests of our customers, a decision was made by DP World to postpone the authorised stop work meeting."
The spokesman said the stevedore so far had mitigated the effects of all the union's industrial action and accused the MUA of "irresponsible actions".
"These actions are deliberately causing harm to shipping lines, transport and rail operators, and to our employees who continue to lose wages."
Jobs cut due to 'significant losses'
DP World announced on Friday, at the start of the union's industrial action, that it was seeking voluntary redundancies from the 650 workers at its Melbourne terminal due to combined volume losses since last year.
"The changes are the result of the detailed and considered analysis and planning which we first flagged to our people in January after an important shipping line customer confirmed we would be losing their business," DP World chief operating officer Andrew Adam said.
"Our business needs to adjust to the realities of a challenging operating environment characterised by a weak outlook for volume growth and strong competition."
However, MUA national assistant secretary Warren Smith said the union was "looking at [the redundancies] a bit suspiciously" and questioned why the company could not handle any losses through reduced hours.
The company is expected to meet MUA officials this week about the redundancies, which have not been officially quantified.