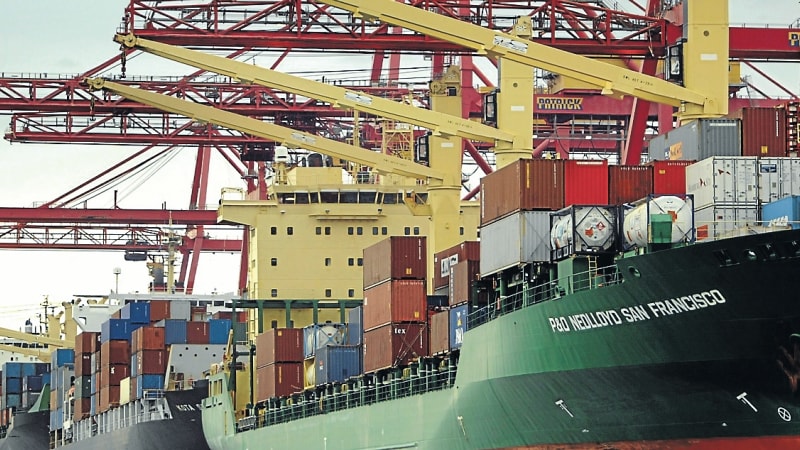 The profound and rapid-fire change in long-standing market share patterns in Australian container stevedoring reinforces the growing power of the new super-major shippers to make or break their regional service providers.
February's monthly shipping data indicates that DP World Australia (DPWA) has suffered a dramatic loss of market share with the erstwhile market leader of long standing owning just 39 per cent of container movements.
Through 2017-18 DPWA held 45 per cent of the market, according to the Australian Competition and Consumer Commission's latest annual review of the economy-critical stevedoring industry. And the monthly industry data shows that back in February 2018 DPWA spoke for a very healthy 49 per cent of the Australian market.
What is arguably the biggest shift in market share since the progressing disruption of the stevedoring duopoly began way back in 2013 will rightly be received by the competition watchdog as affirmation of the potential of waterfront reform.
To a degree that is true given so much of the recent market share change has been driven out of Melbourne where a third container terminal operator with a differentiating, technology-based operating model has won a whole lot of new volume from DPWA.
But the underlying reality that contract decisions of just one big shipper has made quite so much difference to the local market might, simultaneously, seed some level of concern at the ACCC.
So what on earth has happened?
Well, two things, according to industry sources. As it turns out, the local offshoot of the world's biggest ports business has been caught by shifts incremental and seismic. The incremental movements in share, which are recoverable in the shorter term, flow from the routine spillage of freighters to competitor terminals as a result of capacity interruptions, some planned and some not.
DPWA has, for example, been busy installing nine new modern cranes in Melbourne in a process that has seen it occasionally turn to competitors to meet the needs of its contracted customers.
But the bigger issue for DPWA has been a Dane called Maersk Line. It is the world's biggest shipper and through the back end of last year it sought and received DPWA acquiescence to move its Melbourne business to the Port of Melbourne's new third operator, Victoria International Container Terminal (VICT).
VICT is said to have won its support from Maersk by keener pricing and by effectively promoting the natural and unnatural advantages of its Webb Dock facilities. VICT is a wholly automated terminal whose access is unconstrained by Melbourne's towering West Gate Bridge. The terminals operated by DPWA and Patrick sit up-river of the bridge. As a result VICT reckons it is the only operator that can take the new generation of super-sized freighters.
The deal that didn't happen
The industry scuttlebutt is that this shape-shifting deal was proposed to DPWA's management in transition as a lift-neutral arrangement. The story goes that Maersk planned to compensate DPWA's Melbourne losses with volume gains at Sydney's Port Botany. What created the leverage of contract optionality for Maersk is not obvious to this outsider. And neither is it particularly clear why DPWA might accept concession of any share at all.
Anyway, at the point when discussions started, Maersk's Sydney volumes were passing through the hands of DPWA's biggest competitor, Patrick. And the problem for DPWA is that they still are. The Port Botany compensation volumes did not arrive.
It is worth noting, though, that Patrick is doing a good deal more than simply retaining what it owned. The February numbers, given they are repeated, show that Patrick is doing more than just hang on to that Sydney business. As things stood, Patrick has seized the DPWA's long-established market lead with a 45 per cent share of market.
It probably stands tribute to just how commercially sharp are the folk at Maersk that the Danish push for change arrived at a moment of ownership and executive transition at DPWA.
Winds of change sweep through DPWA
In January the Dubai-based port operator confirmed it had moved to control of the Australian port business. As it turned out, negotiations over a deal that saw Australia's Future Fund offer up its 20 per cent interest took longer than anticipated. And that made a long-planned change of DPWA chief executive rather more complicated than it should have been.
The term of five-year CEO Paul Scurrah formally ended last November. But the formalities of change were made more complicated than they should have been by the delayed resolution to the shareholder shuffle. That is because the new man at the top, Glenn Hilton, is a DP World man of 14 years' standing. Hilton's arrival was delayed until the ownership was settled.
Hilton's first three months in the job have been eventful as structural volume leakage in Melbourne has been exacerbated by industrial action in March as negotiations over a new enterprise agreement took their usual turn. The prospect of a May election then saw the Maritime Union (MUA) suspend hostilities for 12 weeks. Hilton is hopeful that this truce will be productive. But his competitors are not so optimistic.
If any of that is worrying Hilton excessively, it certainly does not show.
"Look this is part of doing business as a stevedore in this country," Hilton told The Australian Financial Review in a recent interview. "From my perspective it is all about communicating with our people. They are out staff, our employees. They don't work for the MUA. But the union has a role to play here. They will do what they will do and we will do what we will do. We understand the environment, we understand the culture, we will go through the process and we will advocate for the business that we need."
The time to flex is now
And what sort of business is that? Well, according to Hilton it is a business that is ever-more flexible, productive and responsive to the demands of its customers.
"The big change on the waterfront is the level of automation and I don't think the union, in terms of its approach, have adapted to that.
"Volumes are down because of new entrants. They have cheaper operating models because they don't have the level of labour on site. But it is hard to get them to put that into the conversation of get them into that reality.
"If there is any major port operator that needs to have flexibility [in its EA] it is DP. Flexibility is our issue," he said. "We have lost significant volumes in Melbourne and we have to deal with the outcome of that."
The strategy reset
The reason DPWA is more vulnerable to inflexibility than its peers is that it is the least automated of Australian mainstream terminal operators. Hilton's two biggest terminals, Melbourne and Sydney, are manual operations.
"Brisbane is semi-automated but at the other locations we are not. We have competitors that are in the automated space. Economics are economics. It is an economic decision eventually. We don't see ourselves having to go down that path in the short-to-medium term. It depends on arrangements we can build with our stakeholders in the unions. If things become unmanageable, we have that option," he said.
Hilton's view is that the pressures he has arrived to are the "natural by-product of new capacity" in the Australian system. And they now require a "reset" of the way DPWA does its business.
"It would be fair to say we have reset the strategy," he said. Through the Scurrah years DPWA was an aggressive acquirer of new volumes. Hilton hints at a more cautious approach.
"A natural byproduct of new capacity coming in is that it becomes less profitable to retain volumes within an oversupplied market. The only way to do that is to reduce prices and that reflects in profitability.
"But we are a capital-heavy business. We can't afford to do that. Once tariffs or prices come down they stay down. For us the focus is about retaining volumes that we had in a different competitive environment but to understand that profitability can come from a better product, a more cost-efficient product where we can share value with our customers by working on our own efficiency and offering value to the customer."

Source: Australian Financial Review