Automation, appointments lowering truck turn times at USWC ports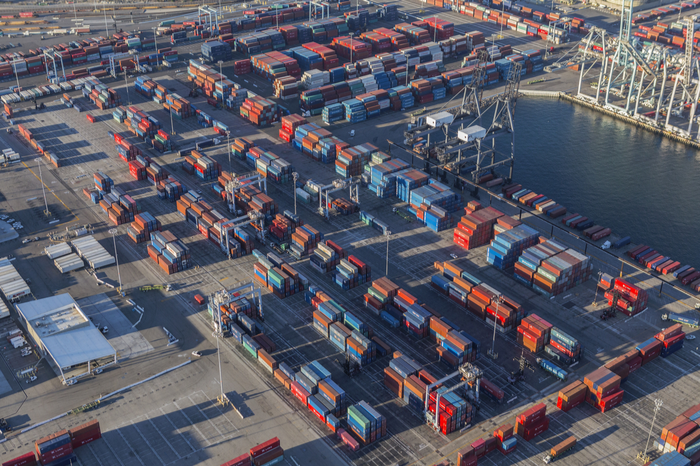 Long Beach Container Terminal had an average truck turn time of 32 minutes in May, the best in the harbor. Photo credit: Shutterstock.com.
Ports in California are seeing reduced truck turn times in recent months thanks to automation, extended gate programs, and trucker appointment systems.
The two automated terminals in Los Angeles-Long Beach outperformed the other 10 terminals there in May by registering lower truck turn times, even as the overall average for the harbor increased slightly from April. In Oakland, meanwhile, average turn times improved dramatically to 70 minutes from 77 minutes in April, which the port attributed to its program of extended gates and mandatory trucker appointments. Turn times at both ports are tracked and published each month by the Harbor Trucking Association.
The benefits of terminal automation for harbor truckers are becoming increasingly evident in the ports of Los Angeles and Long Beach, where the Long Beach Container Terminal (LBCT) and TraPac are the only two fully automated terminals in North America.
Truck turn times at LBCT and TraPac in May were significantly better than the port-wide average of 84 minutes. LBCT was best in the harbor, with an average turn time of 32 minutes; TraPac was third at 51 minutes. The Matson-SSA Marine terminal ranked second at 38 minutes, although Matson has a somewhat unique situation. It has only one international service each week, with vessels of less than 4,000-TEU capacity, and most of the imported containers are drayed from the terminal when they are unloaded from the vessel.
Terminal congestion and excessive truck turn times during the spring are viewed as key indicators of what terminal operators are doing right, and what more they must do to ensure they remain fluid during the summer-fall peak shipping season. Last month, Gene Seroka, executive director of the Port of Los Angeles, indicated that the average truck turn times in excess of 80 minutes in the Southern California port complex during the slack season were "unacceptable," and he insisted the port community must "prepare for the upcoming peak season now."
Los Angeles-Long Beach is the largest US port complex, handling more than 17.5 million laden and empty TEU in 2018, according to port statistics. The ports struggled with congestion beginning last July, and continuing into early 2019, due to the chaotic situation spawned by Trump administration tariffs on imports from China. Retailers and manufacturers front-loaded unprecedented volumes of imports to stay ahead of the tariffs, and carriers responded with 35 extra-loader vessel calls. The tariff war has affected supply chain logistics nationally, but the majority of extra-loaders were deployed to Southern California. This resulted in port congestion and excessive truck turn times for six straight months beginning in October 2018.
Beneficial cargo owners (BCOs) and truckers expected turn times to improve during the slack spring months before the onset of the back-to-school and holiday shipping seasons in July, but that has not been the case in Los Angeles-Long Beach. In fact, the average turn time in May for the 12 container terminals was up from 83 minutes in April, according to the HTA's truck mobility data. In early to mid-2018, before the front-loading of imports began in July, the average turn times were mostly 72-80 minutes.
Automation controversial, despite obvious benefits
Even so, marine terminal automation remains a controversial issue at US and Canadian ports. Longshore unions in both countries emphasize that automation can result in a 40-70 percent loss of dockworker jobs.
Anthony Otto, president of LBCT, said the design of the terminal, its gate processes for truckers, the technology it deploys, and the removal of chassis to a near-dock site have made LBCT the most trucker-friendly terminal in the harbor.
In an automated terminal such as LBCT, container stacks are repositioned perpendicular between the vessel and the gate. This configuration reduces yard congestion by separating "vessel traffic," which are the yard tractors that shuttle containers between the vessel and the stacks, from "street traffic," which are the trucks arriving at the terminal to drop off an export load or empty container and pick up an inbound load.
Otto said LBCT's terminal operating system (TOS) further improves efficiency through algorithms that manage inbound and outbound traffic, directing the automated stacking cranes (ACSs) where to place containers and when to retrieve them to prepare for the next truck arrival. Because the TOS allows import, export, and empty containers to be placed in the same stack, truckers achieve more dual transactions than at other terminals in the harbor. Weston LaBar, CEO of Harbor Trucking Association, said increasing the number of dual transactions would be one of the most powerful measures available to reduce truck turn times.
From the onset of its automation process, LBCT removed chassis from the terminal, locating them at a near-dock site where they are checked for roadability; repaired, if necessary; and are ready to be pulled from the site when the truckers arrive. The ports of Los Angeles and Long Beach are actively seeking near-dock sites for chassis storageand maintenance.
Seroka said the ports have had several meetings with stakeholders on chassis and related productivity measures over the past two years. "Now it's time to act," he said. Otto added that for LBCT, removing chassis from the terminal "is a huge part of our efficiency."
Although Oakland, which last year handled 2.55 million laden and empty TEU, according to port statistics, does not have to contend with the volumes handled in Southern California, the port has worked with its stakeholders this year to steadily reduce average turn times from 82 minutes in January to 70 minutes in May. "It's an encouraging sign for all of us. It indicates that we're operating more efficiently for the benefit of the global supply chain," said John Driscoll, the port's maritime director.
Over the past few years, Oakland has phased into its operations the addition of night shifts to ease daytime crowding, and mandatory trucker appointments, which help terminals to manage traffic flow at their gates. Because Oakland has only three major terminals, about 80 percent of truck moves involve dual transactions, which significantly improves trucker productivity and reduces gate traffic. LaBar said that in Los Angeles-Long Beach, where containers are spread over 12 terminals, dual transactions are as low as 20 percent at some terminals.
In both Southern and Northern California, terminals this spring have reduced the percentage of truck visit times that exceed two hours. Those outliers can significantly skew the turn-time numbers for the entire harbor. The number of visit times exceeding two hours in Los Angeles-Long Beach declined from 24 percent in January to 15 percent in May, and in Oakland declined from 19 percent in January to 15 percent in May.
Contact Bill Mongelluzzo at bill.mongelluzzo@ihsmarkit.com and follow him on Twitter: @billmongelluzzo.