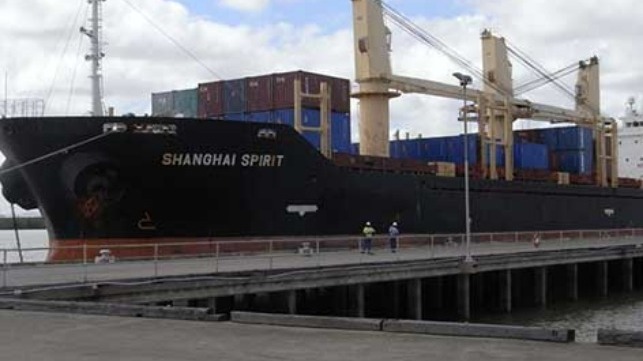 This incident occurred on January 29, 2017, when the 140-meter geared bulk carrier was anchored in Keppel Bay, Queensland. While conducting painting and routine touch-up work in the cargo holds, deck crewmembers were using a mobile scaffold tower. As the scaffold tower was moved with two unsecured crewmembers still on the upper tiers, it became unbalanced and toppled forward onto the deck.
On hitting the deck, the scaffold tower came apart and the two crewmembers were entangled in the components. Emergency services were notified of the incident, and a rescue helicopter was dispatched, making two trips out to the vessel to transport the men to hospital. Both men had to remain in hospital for several days before they could be released.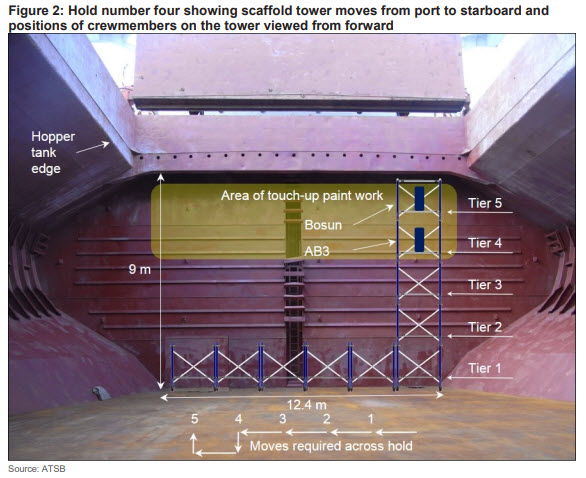 The ATSB found that by remaining on the unsecured scaffold tower in preparation for repositioning, contrary to established procedures, the two crewmembers had rendered it top-heavy and unstable. Consequently, when moved, it toppled and fell. Additionally, neither crewmember on the scaffold tower used the required safety harness and associated safety lines which would have prevented them falling when climbing or working on the tower.
The incident occurred during the afternoon when there was no appointed supervising ship's officers so, by default, the most senior crewmember was deemed to be responsible for the conduct of the task. However, that individual was one of the two crewmembers working from the scaffold tower who did not come down during its repositioning, despite being required to do so. As these same crewmembers had also worked from the tower in the morning and climbed down during each repositioning, the ATSB concluded that they were both familiar with the requirement to climb down from the scaffolding before it was moved.
The decision to remain on the scaffolding during the afternoon repositioning was probably influenced by the lack of formal supervision, as well as the desire to expedite the task as the day was hot (32°C) and the worksite was uncomfortable in an open hold with poor natural ventilation.
Similar falls in 2003 and 2009 resulted in serious injuries and, in one instance, the death of a crew member. The ATSB reminds shipowners, operators and crewmembers to undertake risk assessments for assigned tasks in order to identify any shortcomings in procedures and required risk-mitigation measures.
The report is available here.