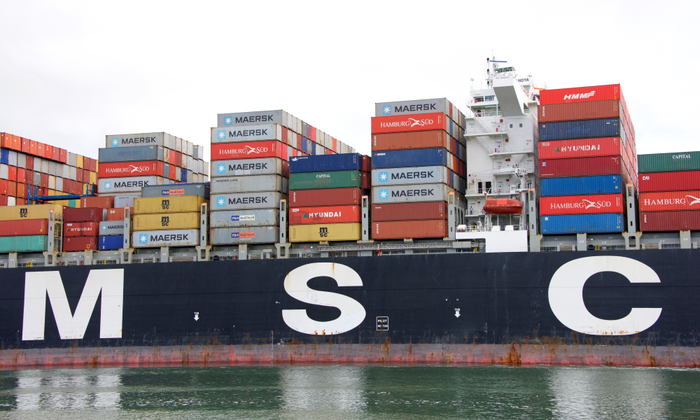 Mark Szakonyi, Executive Editor
MEXICO CITY — The head of Mediterranean Shipping Co.'s Central American and Mexican business says cargo owners need to choose carriers based on how well the latter reduce greenhouse emissions, not just pay lip service to prioritizing carriers that boost environmental sustainability.
Morten Møller Weisdal, a managing director at MSC, said Tuesday the need to improve sustainability in container shipping is "the single greatest challenge of our lifetime," adding "shippers bear a huge responsibility." The container shipping industry is under pressure from the International Maritime Organization (IMO) to at least halve its emissions compared with 2008 levels by 2050; more pressingly, a rule mandating a sharp reduction in sulfur emissions takes effect Jan. 1.
"In my experience, a discussion with shippers 364 days a year, they're willing to talk about sustainability — until the 365th day when we negotiate contracts," Weisdal told more than 250 event attendees.
In his keynote speech to the JOC Mexico Trade Conference, Weisdal said there's a need for an industry standard of ranking carriers by how aggressively they're reducing greenhouse emissions. The three major benchmarks of gauging carriers' commitment are how far they get cargo to the final destination via ocean transport; the reduced emission footprint per container via the larger economies of scale afforded by larger vessels; and the number of new vessels, which are generally more fuel efficient and can be outfitted with technology to further reduce emissions.
Shippers are generally aware of the sustainability pressures, but don't prioritize how a carrier addresses it when they book cargo, choosing to focus instead on transit times, price, and how well the carrier will respond when a shipment goes awry, Weisdal said.
"It's up to the shipper. It's a matter of sitting down and [making] sure you take the biggest ships and the newest ships, and the cargo goes to the port closest to where you need the cargo," he said.
Low-sulfur deadline nears
In regard to the IMO mandate requiring the reduction of sulfur emissions from 3.5 percent to 0.5 percent starting Jan. 1, Weisdal said he was optimistic cargo owners would agree to a bunker adjustment factor (BAF) that accounts for the higher costs to meet the rule. Carriers estimate that the mandate will add $10 billion to $15 billion per year to their operating costs, based on various estimates.
The container shipping industry is seeing signs that the cost of meeting the IMO rule will come in on the higher side of various estimates, pointing not just to higher fuel surcharges but, ultimately, greater risk of pulled capacity and further slow steaming. The number of ships expected to be equipped with scrubbers as of Jan. 1 — about 4 percent of total deep draft tonnage, according to IHS Markit — will be negligible in terms of reducing carrier costs in the months after implementation.
"I'm positive the low-sulfur surcharge will be affected. But will there be a difference between a scrubber ship and a low-sulfur ship? There's going to be a lot of discussion about this," Weisdal said.
Weisdal downplayed the potential that carriers would be forced to slow vessel sailings because they aren't able to recoup the higher operation costs. But he did say slow steaming is an option.
"It's a double edge," he said. "The moment you add slow steaming, you have to put more assets into a network to make it work."