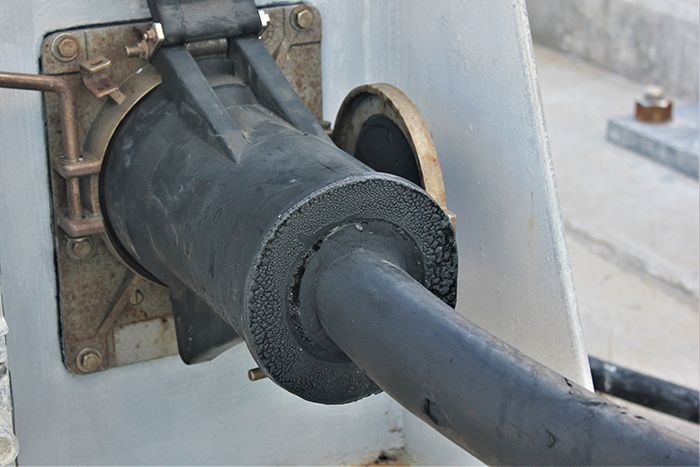 Danielle Sukharenko, Research Analyst
Improvements in national regulation and cost standards needed for effective use of global shore power to decarbonize. Photo credit: Shutterstock.com.
Shore power technology has the potential to virtually eliminate greenhouse gas (GHG) emissions from maritime vessels while at berth but doing so would require an ambitious and coordinated effort of investment and government support.
Although shore power can be a short-term measure to work toward International Maritime Organization (IMO) 2050 goals to halve GHG emissions from 2008 levels, industry analysts say a lack of national legislation, tax exemptions on shoreside electricity, and a reduced price differential between bunker fuel and electricity costs are keeping shore power from being implemented on a global scale.
Sometimes referred to as "cold ironing" or "alternative marine power," shore power is the process of switching off a vessel's auxiliary engines in port and plugging into the local electrical grid instead. Because no fuel is burned, the process can reduce GHG emissions by as much as 98 percent under optimal energy circumstances, according to the US Environmental Protection Agency (EPA).
But, according to a December 2015 report from the International Council on Clean Transportation (ICCT) and the Wilson Center, shore power is only available at 21 ports worldwide, largely due to high infrastructure costs and lack of incentive for implementation.
Higher implementation costs, minimal returns
The European Sea Ports Organization (ESPO), which represents the port authorities of the European Union member states and Norway, said in its 2018 Environmental Report only 24 percent of European ports offer the high-voltage shore power required by commercial seagoing vessels.
According to the EPA, shore power only becomes economically attractive when bunker fuel costs are high relative to local electricity prices. "At current bunker prices, the industry argues shippers are less likely to use shore power rather than marine gas oil [MGO] due to high up-front vessel commissioning costs associated with shore power, the cost of purchasing the electricity while in port, and lower cost options available such as Advanced Maritime Emission Control [AMEC] systems that scrub exhaust gases and do not require shore power retrofits," according to EPA's 2017 report, Shore Power Technology Assessment at U.S. Ports.
The global maritime energy efficiency partnerships project (GloMEEP), an IMO initiative aimed at reducing GHG emissions from shipping, estimated the total cost of implementing shore power infrastructure on board a container vessel weighing greater than 100,000 GT (gross tons) at $300,000 to $750,000.
A ship weighing in at 100,000 GT is approximately equivalent to a vessel with 9,600 TEU in capacity, but comparisons between gross tonnage, a measure of a ship's overall internal volume, and total TEU capacity, the most common measure of container ship size, are difficult because much of the cargo on board a container ship is stored above deck. This means that shore power infrastructure costs for today's mega-ships — i.e., those with a capacity of 14,000 TEU or greater — would likely exceed $500,000 per vessel.
"In many ports, shore power is very expensive and has small gains in terms of air pollution and virtually no gains in terms of carbon emissions," Jasper Faber, aviation and maritime transport expert at CE Delft, said. "For this reason, it is difficult to make a business case for implementing shore power infrastructure in ports."
According to a 2014 report from the International Transport Forum, vessel emissions in ports account for only 2 percent of total shipping emissions. Therefore, a 98 percent reduction in port shipping emissions, as the EPA cited, would result in minimal emissions reductions in aggregate.
The ESPO report further noted that "energy taxation on electricity has been a significant barrier for the uptake of shore-side electricity for ships, being often the reason why it does not make a strong business case."
Presently, ships that plug into shoreside electricity systems at ports in the EU must pay taxes applied to electricity, while electricity produced from the combustion of marine fuel on board vessels is tax-exempt.
Sotiris Raptis, senior advisor for environment and safety and coordinator of EcoPorts at ESPO, told JOC.com that reducing this tax burden within the EU is an onerous process. To get a time-limited tax exemption, ports must petition to the Energy Taxation Directive, which sets tax limits for all EU member states because national administration cannot go below mandated levels.
Only Sweden, Germany, and Denmark have been permitted by the Energy Taxation Directive to temporarily apply a reduced rate of taxation to shoreside electricity for ships, the report says.
"Electricity is much more expensive than marine fuel, which is tax exempt, leaving many of our members to say that even when infrastructure is available, ships will not take advantage of the measure because it does not make a sound business case — it is much more expensive for shipowners," Raptis said.
California, Shenzhen set shore power precedent
Presently, there are only a handful of government regulations mandating the use of shore power to reduce GHG emissions, including California's at-berth regulation, the Shenzhen Air Quality Enhancement Plan in China, and the United Kingdom's Clean Maritime Plan.
California's at-berth regulation, which applies to the ports of San Diego, Long Beach, Los Angeles, Oakland, Hueneme, and San Francisco, requires fleet operators to reduce at-berth emissions from its vessels' auxiliary engines at each California port by 80 percent from the fleet's baseline power generation as of 2020.
This 80 percent reduction in emissions can be achieved in two ways. The vessel operator can either shut down their auxiliary engines at port and connect to grid-based shore power, or use alternative control techniques, such as non-grid-based shore power (distributed generation) or other shipside or shoreside control technologies that achieve equivalent emissions reductions.
ESPO's 2018 report acknowledged the difficulty for ports to accommodate the increasing number of pathways for a green shipping sector. As such, the organization argues that "to avoid the chicken/egg situation, policy measures on the port side should be accompanied by corresponding measures for the users," similar to California's at-berth regulation mandates. In other words, ESPO encourages ports developing shore power infrastructure to implement complementary rules for vessels mandating the use of shoreside power to take full advantage of the investment.
"Shore power supply remains much more expensive than marine fuel, which is why we proposed in the ESPO memorandum to the new European Commission that it is important to draw on experiences from other jurisdictions that leverage shore power, such as California, to promote the uptake of shore power across Europe" Raptis said.
In response to growing concerns over air pollution, the Shenzhen government launched the Shenzhen Air Quality Enhancement Plan in September 2013, setting milestones for ship emission control measures. As part of their plan, the Port of Shenzhen planned to have at least 15 percent of container ships using shore power by 2015, according to the ICCT's report.
Assuming a 50 percent penetration rate, due to the voluntary nature of Shenzhen's shore power plan, ICCT's 2015 report estimated that carbon dioxide (CO2) emissions can be reduced by approximately 10 percent, and particulate matter, nitrogen oxide (NOx), and sulfur oxide (SOx) can be reduced by approximately 25 percent.
ICCT's report says that in order to further incentivize shore power use, the Shenzhen port should consider "forging an alliance with ports in California where trade ties with Shenzhen are close and most container ships must use onshore power by law."
By doing so, both ports would be structuring shipping lanes in which container ships are encouraged to use shore power due to national legislation, therefore, encouraging the global implementation of shore power.
The UK has been one of the first countries since the 2018 Paris Agreement to publish a national action plan on GHG emissions reduction with the launch of the clean maritime plan on July 11. According to the UK government, the plan "identifies ways to tackle air pollutants and greenhouse gas emissions in parallel while securing clean growth opportunities for the UK."
One of the core commitments of the plan is to offer 1.3 million pounds ($1.6 million) in funding to support clean maritime innovations, which could include shore power.
"There is no silver bullet," Raptis says. "Some experts say onshore power may be a solution for a segment of the shipping sector, and from what we have seen in Europe, many ports are bracing for that change."