IDC International Dockworkers Council threatens to block charges from Chile of continuing social conflict.
The International Dockers Council (IDC) threatened to block charges from Chile not to mediate a solution to the social and political conflict in the country. In a public statement, the international entity - which brings together 120.00 workers and 93 unions - expressed "its most absolute solidarity with the Chilean people and their just demands, repudiating the dictatorial measures imposed by its president Sebastián Piñera Echenique."

The IDC said that the intervention of the police and armed forces to contain social unrest has been seen with "horror" by the organization. "We know the demands of the Chilean people, totally legitimate, especially those of social claim, pension, retirement, health, education, basic services such as electricity, water, and much more," added the international port entity.
"We think it is unpresentable that Chile, being one of the countries with a stable economy at the Latin American level, has its inhabitants forced to take to the streets to confront the police forces to ask for solutions and be heard, in the face of excessive abuse by the Government, who increases the life of citizens every day, "added the IDC.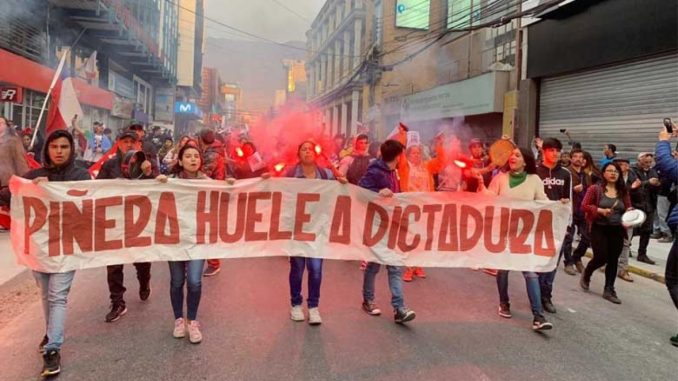 "We believe that social organization and protest are legitimate actions in a rule of law, which must ensure that they grant adequate conditions so that they do not end up with dead and wounded, as we have seen in these days of mobilization. We are energetic in indicating that the control measures applied are unacceptable, "they added.
"We express our full support to the Chilean sisters and brothers who are mobilized for their just and legitimate demands. We make a strong call to the President of the Republic, Mr. Sebastián Piñera Echenique, to end the control measures, end the curfew and the immediate withdrawal of the Armed Forces from the streets; initial measures to begin a constructive dialogue, without which we will have to continue adding dead and wounded ", they complemented.
"Mr. President, we call to listen and solve the demands of the Chilean people, to stop with the privileges of a few. We are in constant communication with the dock organizations of the Chilean ports who have made solidarity and timely mobilizations to date. Mr President, do not force us to take actions that may further damage the economy; Our solidarity with the poor people throughout the world is ours. We are on alert, and willing to block cargo from Chile in other ports in the world, "they stressed from the IDC.
Posting on behalf of Svein Lundeng