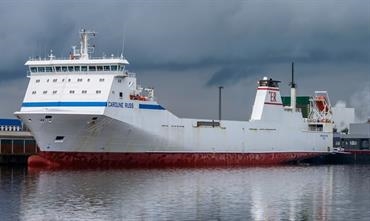 Stuart Todd
Low customer demand and impact of strikes in France cited as factors
P&O Ferries has suspended its ro-ro service linking Calais and the London port of Tilbury, citing low customer demand and the impact of strike action in France over the past few weeks.
Launched last September, it was pitched as a new option for unaccompanied freight to and from Greater London and the Midlands and which would help maintain customers' supply chains in the event of a disorderly Brexit.
P&O Ferries underlined at the time that the new route was designed to give freight that was not accompanied by a driver a direct route to a port located just 25 miles from Central London, "further broadening P&O Ferries' comprehensive service for importers to and exporters from the South East of England."
P&O Ferries chartered the Caroline Russ with two sailings every weekday and one each on Saturday and Sunday.
The vessel had offered capacity for 100 units of freight and the company estimated a total of 50,000 units could be carried in the first 12 months with time-sensitive supermarket goods including fresh fruit and vegetables being a mainstay cargo.
Commenting on the withdrawal of the service, a P&O Ferries spokesman told Lloyd's Loading List:
"Owing to less customer demand than anticipated on Calais-Tilbury and disruption caused by the strikes in France, we have suspended the route. We shall continue to provide customers with a fast, reliable and efficient service for unaccompanied freight on our Calais-Dover ships." He did not elaborate further.
Industrial action by workers at French state railway SNCF in protest to pension reform, which began in early-December, has brought rail freight services at Calais to a halt, with seemingly a direct knock-on effect for P&O Ferries' service to Tilbury for unaccompanied trailers.
SNCF Logistics subsidiary Viia normally operates scheduled intermodal routes linking Calais with Turin and Le Boulou, near Perpignan on the French-Spanish border.
Last month, it had been poised to launch a new service between the French Mediterranean port of Sète and Calais, transporting mainly semi-trailers and swap bodies originating in Turkey to the UK. However, it soon became a victim of the strike.
A good deal of Viia's traffic, originating in Italy and Spain, is transferred from trains onto ferries bound for the UK and while support for the strike is waning, services are still a long way short of returning to normal.
Interviewed by the FranceInfo radio station yesterday, Port of Calais chief, Jean-Marc Puissesseau said the port's rail freight activity had been "at a complete standstill since the start of the strike because there are no train drivers. We have lost traffic representing between 5,000 and 6,000 trailers."
Calais, along with six other French ports - which include Le Havre and Marseille, the country's biggest box ports, as well as Rouen, Nantes-Saint-Nazaire, La Rochelle and Marseille - is also feeling the effects of a 72-hour stoppage by the ports and docks branch of the CGT labour union which began on Tuesday (14 January) in protest to the government's pension reform.
"While Calais has not been entirely blocked, we are a victim of this industrial action as it leads to a slowdown in traffic and a diversion of traffic to structures neighbouring our port (Eurotunnel). If traffic is slowed down it quickly translates into queues of trucks stretching for several kilometres which is also costly to us in terms of our image and threatens the economic fture of the port," Puissesseau underlined.
As Lloyd's Loading List was going to press, the latest tweets from P&O Ferries indicated that the ferry company's departures from Calais to Dover later today were subject but it was unclear whether this due to the strike by port workers.
As for Eurotunnel, a service update issued earlier this afternoon, informed customers of waiting times for trucks to check-in on its freight shuttle from Calais to Folkestone of two hours due to heavy traffic.
Returning to the impact of industrial action at France's ports, French business newspaper, Les Echos, yesterday reported that no ships had entered or left Le Havre on Tuesday and Wednesday this week, quoting a port authority source while several ships were at anchor outside the port and others had been diverted to Antwerp and Rotterdam.
Operating conditions are said to be difficult at the other ports where the strike is taking place.