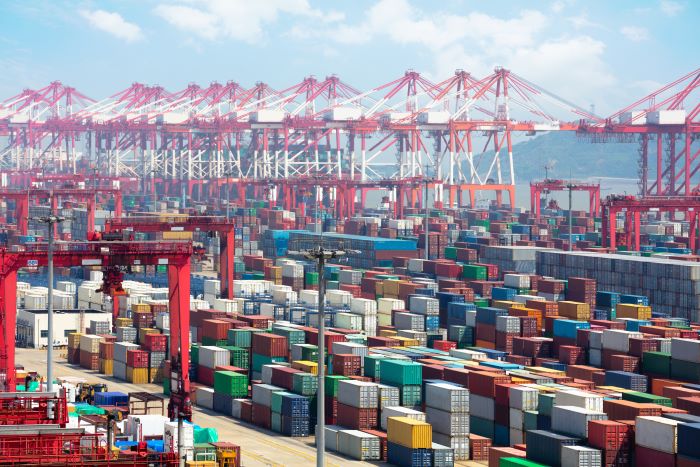 Container lines have so far held back on canceling sailings from China, although forwarders and cargo owners say they are preparing for a rash of blank sailings should Chinese factories remain closed. Photo credit: Shutterstock.com.
Container volumes are still moving through Chinese ports despite widening global exposure to the coronavirus, with industry expectations on the impact — muted by the seasonal lull in demand during now-extended Lunar New Year celebrations — ranging from minimal to moderate.
While airlines have slashed services to and from China, container lines have so far held back on canceling sailings, although forwarders and cargo owners tell JOC.com they are preparing for a rash of blank sailings should factories remain closed.
US airlines Delta, United, and American are the latest air carriers to act, announcing Friday they were suspending service to mainland China.
China's government announced this week it was extending the Lunar New Year holiday by three days, through Sunday, for most of the country, and through Feb. 9 in the areas hardest hit by the virus — Shanghai, Shenzhen, Ningbo, Xiamen, and Qingdao. Extending the holiday is meant to limit the interaction of individuals in work settings to lessen the spread of the virus, but it means that production at factories and shipping operations at the ports will be interrupted at least a week longer than usual.
Manufacturing tends to shut down for two to three weeks over this period anyway, but should factories remain closed into March, carriers will have little option but to cancel more sailings.
The final vessels that left Asia before Jan. 25 will begin arriving on the North American West Coast next week, and by mid-February on the East Coast. The trade had already built several weeks of depressed import volumes into their operations in February and March by announcing more than 40 blank sailings beginning Feb. 9. Most of the blanked sailings announced by carriers were scheduled for mid-February until early March.
Rapidly evolving situation
Carrier advisories to customers and the response from forwarders to JOC.com enquiries point to the exceptionally fluid situation surrounding the coronavirus.
"We are not expecting massive disruption to our schedules at this point but that can change," a Hapag-Lloyd spokesperson said. "It is very difficult to judge what will happen, but so far no decision has been made on blanking further sailings or omitting Chinese ports."
Maersk Line likewise said it was assessing the need "for potential network capacity adjustments to cater for any short-term changes in demand out of China."
With the growing potential for containers to be stranded at China ports, the International Federation of Freight Forwarders Associations (FIATA) raised concerns that carriers would charge detention and demurrage fees for the delayed boxes.
FIATA said in a statement that what was happening in China was out of the control of forwarders and no charges should be levied by the carriers for containers "captured" in ports or depots.
"The China event should not be seen as an opportunity for shipping lines to make windfall profits to offset other expenses of operation," said Stéphane Graber, FIATA's director general.
In a customer advisory, Maersk said it would waive detention and demurrage charges for cargo leaving China from Jan. 27-Feb. 9.
A CMA CGM spokesperson told JOC.com its operations had so far not been affected and it was closely monitoring developments and reinforcing crew safety. In an advisory to customers, CMA CGM said Wuhan operations had been suspended until further notice, but confirmed that it was business as usual at the carrier's other China operations, including terminal handling, warehousing, depots, offices, and other facilities.
A spokesperson for Kuehne + Nagel said there were no major disruptions "for the time being" outside of Hubei province, home to the sprawling Yangtze River city of Wuhan where the coronavirus is believed to have originated.
The spokesperson said under a reduced Chinese New Year schedule, the major ports and airports were currently operating as normal. "Given that we are currently in a longer than expected holiday period, the general level of business is low anyway," she said, but warned that the likelihood of delays remained high.
A Hong Kong-based executive for a European logistics company gave JOC.com a more downbeat assessment of the operating environment in China.
"The situation is miserable — impossible to predict in detail, but it's severe and China will not come back to work at best prior to Feb 10," the source said. "The industry is entering a very complicated situation."
Big hit to tech titans
Nishant Singh, head of technology and telecoms data at GlobalData, a data and analytics company, said the closure of manufacturing plants in China will have a big impact on the product releases of technology giants, such as Apple, Microsoft, and Amazon.
"The manufacturing of devices and components is via an intricate supply chain which traverses the region, and hence a prolonged outbreak can drastically affect the manufacturing obligations — this will in-turn impact the product release roadmap of these technology giants," Singh said in a statement.
"Even if factory operations for these technology hubs are temporarily suspended, like has happened with Tesla's Shanghai plant, the impact of the reduced production might cascade through to the rest of 2020."
The logistics manager at an importer of seasonal merchandise said he is concerned that extending the Lunar New Year holiday until Feb. 9, or possibly longer, will create a backlog of production orders at factories in the Wuhan area that will affect the production schedule for his merchandise.
"If this pushes the slack production season through March, we usually have our spring-summer merchandise in by early March," the source said.
In a more extreme scenario, a source at a non-vessel-operating common carrier (NVO) said that if disruption of the production schedule in China continues into the summer, manufacturing and shipment of spring and summer merchandise will start to bump up against the back-to-school and holiday merchandise.
"If this is just a short-term hiccup, it's not that bad, but no one knows what would happen if it is longer term. If it maybe pushes volumes to the peak, that is one possible scenario to think about," he said.
Difficult to gauge impact
Restricting or canceling product releases would hit air cargo especially hard, as the industry tries to bounce back from a dismal performance in 2019. Most airlines have suspended flights to China, but as with ocean freight, the Chinese New Year seasonal slowdown makes the true effect of the coronavirus hard to gauge.
Tim Strauss, vice president of Air Canada Cargo, said the holidays have confused the available information, making it difficult to assess what the virus will mean for inventories, production, and trade.
"We think it will be late next week before there is good enough data to predict demand and social impact," Strauss told JOC.com. "In terms of action, it will mostly depend on the severity of the risk. If the virus is contained to more rural areas as it appears to be now, then operating freighters may be possible into the major airports. This is the likely response by the air industry."
A spokesperson for Lufthansa Cargo said all passenger flights to China had been suspended and freighters would operate on a special flight schedule, but flights of both passenger and cargo flights were still being operated to Hong Kong.
https://www.joc.com/maritime-news/container-lines/shippers-brace-blank-sailings-container-lines-monitor-coronavirus_20200131.html?