LA-LB work shift cancellations hamper container returns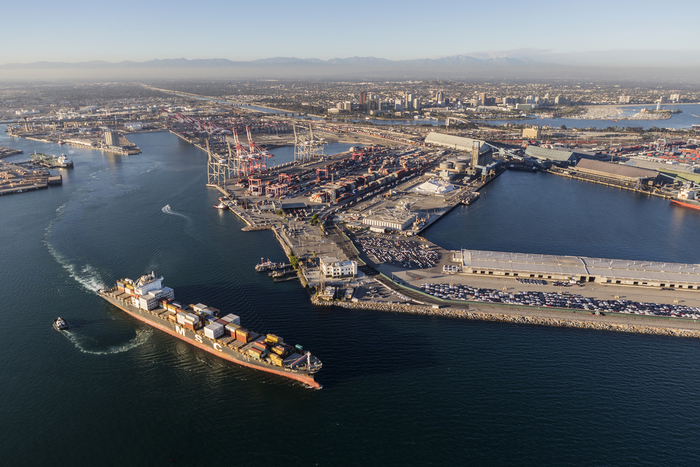 Terminal operators at the ports of Los Angeles and Long Beach are canceling dozens of work shifts due to plunging cargo volumes, which is making it increasingly difficult for shippers and truckers to return empty containers.
With trans-Pacific carriers continuing to
blank sailings
as cargo volumes drop, the inability of beneficial cargo owners (BCOs) to return empty containers to the terminals is expected soon to result in a shortage of chassis in Southern California. The steep drop in US imports began with the closure of factories in China for the Lunar New Year holidays in late January and accelerated due to supply chain disruptions caused by the spread of the coronavirus disease 2019 (COVID-19).
The backlog of empty containers at marine terminals, warehouses, and trucker yards is escalating by the day, and chassis shortages could develop because the vast majority of idled empty containers are sitting on chassis, effectively taking that equipment out of service for days on end.
"It's a growing issue, and it will be a massive equipment issue if it continues," Weston LaBar, CEO of the Harbor Trucking Association, told JOC.com Monday.
Most of the 12 container terminal operators in the Los Angeles-Long Beach port complex began to manage the return of empty containers last month in order to avoid yard congestion.
"If you fill up a terminal with empties, you don't have enough space to handle the containers that are coming in. That's the issue," Ed DeNike, president of SSA Containers, said.
Tightening terminal restrictions
Some terminals last month began notifying BCOs they would only issue appointments for the return of empty containers to truckers that were also taking delivery of full containers coming off of ships. Then some terminals began to refuse returns of all empty containers. Several terminal operators told JOC.com this action was taken because the blank sailings have significantly reduced the outbound vessel capacity needed to return the empties to Asia, and they simply do not have enough space to handle thousands of empty containers with nowhere to go.
Carriers have canceled, or have announced intentions to cancel, 111 trans-Pacific sailings to North America from early February to early April, according to Sea-Intelligence Maritime Consulting. Although 63 of the blank sailings would have occurred due to normal annual factory closures in Asia during the Lunar New Year celebrations that began on Jan. 25, 43 can be attributed to supply chain disruptions associated with the coronavirus, Sea-Intelligence said in its latest Sunday Spotlight newsletter.
Alan Murphy, CEO of Sea-Intelligence, said the blank sailings are already creating a ripple effect throughout the trans-Pacific supply chain, both in disrupting round-trip voyage dynamics and in precipitating equipment shortages.
The blank sailings have also reduced import volumes so greatly that terminals in Los Angeles and Long Beach have been canceling work shifts over the past couple of weeks, ostensibly to save on longshore labor costs. According to a schedule of gate closures shared with JOC.com, individual terminals in Los Angeles-Long Beach from Monday through Friday this week have announced 25 day or evening work shifts that will be canceled.
"Customers are getting so frustrated with the terminal gate closures," said a trucker who did not want to be identified.
Import distribution centers that cannot return containers to the terminals after they are unloaded must store the empties, each of which is resting on a chassis, at their facilities. As those warehouses run out of space, they attempt to get their truckers to store the empties in their yards, but now the truckers say they're running out of space.
"The container yards are becoming chock full of empties. There's nowhere to put them," LaBar said.
The refusal of some terminals to accept empty returns, or the difficulty truckers encounter in getting terminals to post enough appointment slots for truckers, result in issues involving detention fees for the late return of equipment.
"Some carriers are not charging per diem, but others are saying you have to prove you can't get the empty back," LaBar said.
Depot spotting
Some carriers have been on the hunt for off-dock sites where they can store the empty containers until terminals are ready to accept them. Lawrence Burns, senior vice president of trades and sales at Hyundai America Shipping Agency, said Hyundai has secured a yard where HMM can store empty containers, but that's only half the battle. "Now we're sitting on a lot of chassis," he said.
SSA Marine has three off-dock container yards in Southern California, and DeNike said one of the yards still has enough space to accept empties from lines that have empties in need of storage.
Scott Weiss, vice president of business development at Port Logistics Group, said warehouses, BCOs, and truckers want to get the empty containers and chassis out of their way so they can carry on normal business.
"This has been going on for a month. We're not getting appointments to return the empties to the terminals," he said. Normally, when the BCO is notified that an inbound container has been discharged from the vessel and is ready for pickup, the BCO makes an appointment, the container is picked up and delivered to the warehouse and is unloaded within 24 hours. The empty is returned immediately to the terminal. That entire process is completed within 72 hours, Weiss said.
He added that the inability of the BCO to complete the process results in chassis being tied up for days on end. The trucker is charged $35 for each day the chassis cannot be returned, a fee it then attempts to pass on to the customer. Some customers understand that trucking operators cannot absorb $35 a day on multiple containers and readily reimburse them, but others make the truckers go through a process that saddles them with an additional administrative burden, Weiss said.
So far, a chassis dislocation issue has not arisen in Southern California, said Ron Joseph, executive vice president and COO at equipment provider Direct ChassisLink. The supply of chassis at the marine terminals is above normal levels, he said. The number of chassis being used to move containers to and from the distribution centers is down quite a bit because import volumes are so low right now, he said.
With production at many Chinese factories nowhere near normal levels, the expected return to full production is still weeks away. Christian Sur, executive vice president of sales and marketing at Unique Logistics International, said production in China is beginning to ramp up, but it is a slow process that is limited by labor availability and regional transportation restrictions within China.
"South China factories have enough labor, but are lacking in raw materials. North China still has labor issues," he said. Reports indicate that factory utilization generally in China may be up to between 70 percent and 80 percent by the end of March, Sur said.
On the other hand, Burns said HMM's liftings from other Asian countries outside of China are about what they would normally be this time of year, and vessel loads from Vietnam are strong and continue to grow.